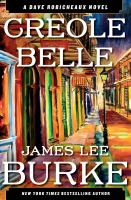 Publishers Weekly
(c) Copyright PWxyz, LLC. All rights reserved

MWA Grand Master Burke continues to raise the bar for himself, and the reader, as shown by his lyrical, insightful 19th Dave Robicheaux novel (after 2010's The Glass Rainbow). While the New Iberia, La., deputy sheriff is recovering in a New Orleans hospital from a bullet wound, he receives a visit from Cajun singer Tee Jolie Melton, who leaves him an iPod loaded with music, including the blues song "My Creole Belle." Only thing is, Tee Jolie supposedly disappeared months earlier, and her teenage sister, Blue Melton, has just turned up frozen in a block of ice. Meanwhile, Clete Purcel, Robicheaux's hard-drinking best friend, has problems of his own: some local wise guys are trying to blackmail him, and he fears his lost daughter, Gretchen, may be a notorious assassin. As Robicheaux and Purcel suit up again to take on an array of foes, including corrupt politicians, oil men, and a wealthy old man they suspect is a Nazi war criminal, they feel the weight of their own history, and begin to hear the ghostly whisper of mortality. This is another stunner from a modern master. Agent: Philip Spitzer, Philip G. Spitzer Literary Agency. (July) (c) Copyright PWxyz, LLC. All rights reserved.
---
Book list
From Booklist, Copyright © American Library Association. Used with permission.

*Starred Review* When we last saw Dave Robicheaux, in The Glass Rainbow (2010), he was near death, as was his best friend, Clete Purcell, after a shoot-out on Bayou Teche. As this latest Robicheaux novel begins, Dave is still recovering from his wounds in the hospital. Mortality hangs heavily over both Dave and Clete once again, as the so-called Bobbsey Twins try to rally their flagging forces for another go-around with the forces of evil. It begins when Dave gets a visit in the middle of the night from Tee Jolie Melton, a Cajun singer who claims to have fallen in with a bad man and is worried for her life. But was Tee Jolie really there, or did Dave, still on morphine, imagine the whole thing? The plot thickens when Tee Jolie's sister is murdered, and a mysterious woman, who may have shocking ties to Clete, appears to be killing low-level mobsters in New Orleans. This tale plays out much like The Glass Rainbow intimations of mortality; melancholic musing on the pillaging of once-Edenic South Louisiana; cathartic, guns-blazing climax but, as always, Burke brings something new to the table, this time in his introduction of significant new characters (the mysterious hit woman) and in his deepening treatment of familiar figures (Clete Purcell has grown from a roughneck sidekick to a figure nearly as complex and fascinating as Dave himself). Dave and Clete may still be unbowed, but they are certainly broken and all the more interesting for it: We were out-of-step and out-of-sync with the world and with ourselves, and knowing this we held on to each other like two men in a gale, the fire burning so brightly behind us that the backs of our necks glowed with the heat. HIGH-DEMAND BACKSTORY: A new Dave Robicheaux novel is always front-page news in the mystery world, and Burke's publisher will respond accordingly.--Ott, Bill Copyright 2010 Booklist
---
Library Journal
(c) Copyright 2010. Library Journals LLC, a wholly owned subsidiary of Media Source, Inc. No redistribution permitted.

In the finale (spoiler alert!) of The Glass Rainbow, Dave Robicheaux, the Cajun police detective featured in Burke's long-running mystery series, was shot in the back and faded out of consciousness, murkily seeing (or hallucinating?) himself being carried aboard an old-time steamboat. In this new volume's opening pages, Robicheaux is recuperating from his injuries. But all is not well in the humid swamps of New Iberia Parish, where there is little that is peaceful and even less that is pure, and sex, death, and corruption pervade the humid atmosphere like the tentacles of foul-smelling oil that contaminates the Gulf. Still groggy from painkillers, Robicheaux sees a troubled young woman in his hospital room, a Creole musician who leaves him with a haunting song and a plea for help. Is she just another hallucination? Longtime friend and fellow investigator Clete Purcel has his own problems, as a deadly contract killer roaming the streets of New Orleans seems to have a mysterious connection to his past. As the bodies of the innocent and the guilty add up, both men are drawn once more into the struggle against "the evil that men do." Verdict Despite the inevitable violence, atmosphere takes precedence over plot, and there is a melancholy and autumnal tone to Robicheaux's thoughts in the 19th book in the series. Series fans will want this. [See Prepub Alert, 1/21/12.]-Bradley A. Scott, Corpus Christi, TX (c) Copyright 2012. Library Journals LLC, a wholly owned subsidiary of Media Source, Inc. No redistribution permitted.