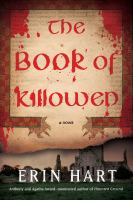 Publishers Weekly
(c) Copyright PWxyz, LLC. All rights reserved

Hart combines powerful insights into human nature and pristine prose with history and archeology in her stellar fourth crime novel featuring Irish archeologist Cormac Maguire and American pathologist Nora Gavin (after 2010's False Mermaid). When the bog-preserved but dismembered and stabbed body of a ninth-century monk is found with the body of Benedict Kavanagh-the host of an intellectual TV chat show who's been missing for months-in the trunk of a car excavated from a Tipperary bog, Nora and Cormac investigate on the behalf of Ireland's National Museum. The pair, working in parallel with local detective Stella Cusack, look into landowner Vincent Claffey and the residents of the artists' colony at Killowen, a tight-knit community of individuals with hidden pasts and strong motivations to protect themselves. Hart teases the reader with hints without telegraphing the solutions to the mysteries a moment too soon. This exploration of the ways people keep secrets, innocuous and terrible, to create sanity out of difficult pasts, offers food for thought that persists beyond the immediate thrill of a well-told tale. Agent: Sally Wofford-Girand, Brickhouse Literary Agents. (Mar.) (c) Copyright PWxyz, LLC. All rights reserved.
---
Book list
From Booklist, Copyright © American Library Association. Used with permission.

*Starred Review* Forensic pathologist Nora Gavin is an American, but she has found a new life in Ireland, where she and her lover, archaeologist Cormac Maguire, are called to investigate murders rooted deep in Irish history often involving ancient, eerily preserved bodies found in bogs. This time it's a ninth-century man's body in the bog, but what is he doing in the trunk of a car, and why is the body of Benedict Kavanagh, a pop philosopher missing for months, residing beneath the bog man? Hart's novels always mix historical and contemporary crime (False Mermaid, 2010), and here she mingles the two with particular skill. The trail leads Nora and Cormac to an artist's colony at Killowen, where the various eccentrics in residence all turn out to have connections to Kavanagh, or possibly even to the bog man. Both murders, we learn, are tied to an ancient manuscript whose power to incite passion seems to be very much alive. The interplay of the bog man's story and the grisly murder of Kavanagh, known for his antagonistic television interviews with rival scholars combined with the backstories of the Killowen artists produces a textured, multifaceted plot that holds the reader from beginning to end. And a high-energy, exciting finale only adds to the pleasure. Another strong entry in an outstanding series.--Ott, Bill Copyright 2010 Booklist
---
Library Journal
(c) Copyright Library Journals LLC, a wholly owned subsidiary of Media Source, Inc. No redistribution permitted.

Pathologist Nora Gavin and archeologist Cormac Maguire are called to the bogs of Killowen to investigate the remains of a ninth-century man found in the trunk of a car along with the body of a controversial medievalist and television talk show host. Mixing work with pleasure, they choose to stay at the spa-lodge of Killowen, once a monastic settlement. Its permanent residents are an eclectic mix of artists and organic farmers who are not entirely appreciated by the locals. Nora and Cormac quickly learn that murder is not uncommon in this remote corner of Ireland and that the residents of the lodge, particularly the estranged wife of the dead TV host and her lover/assistant, all have secrets to hide. Working alongside a prickly group of local Gardai (police officers) and representatives of the National Museum, Nora and Cormac unravel a fascinating tale of ancient scribes, illuminated manuscripts, obsessive treasure hunters, and death. -VERDICT This welcome fourth addition (after False Mermaid) to Hart's Irish archaeological series offers a richly atmospheric read full of medieval Irish lore and a provocative contemporary mystery. Sure to be a huge hit with readers of Aaron Elkins, Elly Griffiths, and Erin Hart's earlier Gavin/Maguire stories. [See Prepub Alert, 10/8/12.]-Susan Clifford Braun, Bainbridge Island, WA (c) Copyright 2013. Library Journals LLC, a wholly owned subsidiary of Media Source, Inc. No redistribution permitted.