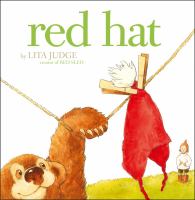 School Library Journal
(c) Copyright Library Journals LLC, a wholly owned subsidiary of Media Source, Inc. No redistribution permitted.

PreS-K-In this almost wordless companion to Red Sled (S & S, 2011), forest animals notice a knit cap hung on a clothesline to dry as a child goes inside his home. A bear finds this object too intriguing to resist and pulls it down, to the delight of the other critters. The cap is tossed around by its tassel until a long line of red yarn creates a foreshadowed moment. As it unravels, children will follow the yarn as it moves the action to the subsequent pages. The attractive pencil and watercolor artwork is framed, making good use of a plain background of color, such as lush greens or white, which allows the details to stand out. The author uses various visual perspectives to show the animals' playful antics. One particularly appealing spread depicts the wide-eyed creatures from high above. So much is expressed with the single comment, "Wut whoa" as the yarn becomes completely undone. Humor is extended through the boy's hair, which forms a peak similar to the shape of his pointy red hat. Amazingly there is sufficient yarn to knit two caps and three bunny sweaters ("Tink-a-tink tink") at the conclusion, but who's quibbling? Enjoyable enough for repeated readings.-Blair Christolon, Prince William Public Library System, Manassas, VA (c) Copyright 2013. Library Journals LLC, a wholly owned subsidiary of Media Source, Inc. No redistribution permitted.
---
Book list
From Booklist, Copyright © American Library Association. Used with permission.

The red hat worn by the child in Red Sled (2011) takes a more prominent role in this sequel. Like its predecessor, this picture book is almost wordless but seldom silent. The action begins after the child washes the hat and hangs it on a clothesline to dry. A bear cub yanks it down and runs off with it, pursued by bunnies. A raccoon holds up the hat triumphantly ( Hiii-ya! ) and takes off at full gallop. Meanwhile, the knitted hat begins to unravel. A mouse sees the tassel end ( Wow-za ) and grabs it ( Yoo-ha! ) before a yank of the yarn sweeps him off his feet ( Whoa ). Without a narrative text, viewers may occasionally puzzle over matters such as the disappearance of the bear cub for several pages. While the pencil-and-watercolor illustrations show a fine color sense, particularly in the idyllic settings, young children will be drawn to the animals' headlong action, expressive body language, and amusing facial expressions. An engaging picture-book ­adventure.--Phelan, Carolyn Copyright 2010 Booklist
---
Publishers Weekly
(c) Copyright PWxyz, LLC. All rights reserved

In this warm-weather companion to 2011's Red Sled, a boy's pointy hat is as irresistible to the local wildlife as his sled was in the previous book. As in that story, the only text is the occasional sound effect-the "Fffwwup" of a hat being grabbed off the clothesline, or the "shwoop" of a rabbit and mouse holding onto the rapidly unraveling hat for dear life as a bear runs off with it. While this book doesn't have the crisp, wintertime magic of its predecessor, the laughs are on target, as is the "no harm done" resolution. Ages 2-5. Agent: Linda Pratt, Wernick & Pratt. (Mar.) (c) Copyright PWxyz, LLC. All rights reserved.