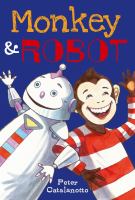 School Library Journal
(c) Copyright Library Journals LLC, a wholly owned subsidiary of Media Source, Inc. No redistribution permitted.

Gr 1-3-On a spread before the title page, Monkey and Robot are pictured floating in a gravity-free spaceship. In the first of four stories, Robot wants to watch a monster movie, but Monkey is scared. His friend advises him to put a blanket over his head and hum when he gets frightened. Armed with these strategies and a bowl of popcorn, he gets through the movie so well that he is ready for another. In "The Game," Monkey insists that he does not like games because he is sad if he loses and sorry for the other person if he wins. Robot convinces him that the fun is in the playing, not in the outcome; an overzealous roll of the die and frisky neighborhood dog result in a good time for all. In "The Cocoon," Robot shows Monkey a stick with a cocoon on the end. "It looks like a tiny sleeping bag," observes his interested, but clueless, friend. When Robot tells him the caterpillar will look different when it breaks out, Monkey imagines that a squirrel, then a raccoon, and finally a bear have emerged thanks to an alluring peanut butter and banana sandwich. In the last story, Monkey introduces Robot to hide-and-seek, more aptly named "hide-and-shriek." The large, generously spaced text is copiously illustrated with comical pencil-and-ink sketches. These silly tales will appeal to novice chapter-book readers.-Barbara Auerbach, New York City Public Schools (c) Copyright 2013. Library Journals LLC, a wholly owned subsidiary of Media Source, Inc. No redistribution permitted.
---
Book list
From Booklist, Copyright © American Library Association. Used with permission.

Can a monkey and a robot be friends? Of course, this is a children's book! In four short chapters, Monkey and Robot watch a scary movie, play a board game, watch a cocoon turn into a moth, and play hide-and-seek. The short scenarios build on the differences of each character and underscore their friendship: Monkey is furry and silly, while Robot is metallic and adventurous. The humor is of the obvious sort, as when a squirrel and a raccoon invade Monkey's bedroom to get the sandwich that he put in the fish tank for cocoon food, and Monkey thinks the cocoon has turned into the two invading animals rather than the moth that Robot promised. The colorful cover notwithstanding, Catalanotto's black-and-white drawings are a bit flat and static. A reading step-up from the likes of Frog and Toad, though not quite as endearing. More Monkey & Robot stories are in the works.--Cummins, Julie Copyright 2010 Booklist
---
Publishers Weekly
(c) Copyright PWxyz, LLC. All rights reserved

For this beginning reader, Catalanotto (Question Boy Meets Little Miss Know-It-All) writes a quartet of stories about best buddies Monkey and Robot and illustrates them in pencil, using strong lines for his protagonists and soft shading for the backgrounds. It looks, at first, as though Monkey is the fragile one and Robot the guide and counsel. "I know the monster in the movie isn't real," says Monkey, in a story about handling fear. "But do you know what is really real?... That I really get really scared at monster movies." Later, though, it's Robot who has never played hide-and-seek, and Monkey who must explain the rules. The episodes don't always stay focused. In a sequence about a cocoon hatching, after Monkey puts a sandwich in a tank with the cocoon, the sandwich pieces disappear in a way that distracts from the story arc. Elsewhere, a board game sequence about winning and losing bogs down in slapstick humor. Yet the passages about the friends' strong and supportive relationship make the stories worthwhile, and good-humored silliness prevails. Ages 6-9. (Jan.) (c) Copyright PWxyz, LLC. All rights reserved.