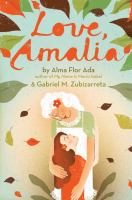 School Library Journal
(c) Copyright Library Journals LLC, a wholly owned subsidiary of Media Source, Inc. No redistribution permitted.

Gr 3-5-Amalia is upset when her best friend announces that she is moving from Chicago to California. When Martha leaves, Amalia turns to her grandmother for comfort. It is in her kitchen and at her table that the child learns not only about her family and her Mexican heritage, but also about herself. As Abuelita shares her Christmas-card ritual with her granddaughter, Amalia is given glimpses of her aunts and uncles and her mother, and notices the care that Abuelita takes in her communication and responses with everyone. It's quite the the opposite of how Amalia treated Martha at the time of her move. When her grandmother dies suddenly, the child feels lost. Her extended family, whom she has heard so much about, is suddenly around, but instead of making her feel better, she feels worse. Through flashbacks, readers see just how close Amalia was to Abuelita and how much she relied on her for comfort and advice. Over time, with the help of the cherished Christmas-card box, she begins to heal, and by recalling Abuelita's words and deeds, she begins to reach out to her family members, and to Martha as well. This story utilizes a special intergenerational relationship to introduce Mexican culture and traditions within the themes of changing family and friendships. Spanish words and phrases are woven into the text. While it does not break new ground, this quiet story may provide a different perspective on the loss of a loved one.-Stacy Dillon, LREI, New York City (c) Copyright 2012. Library Journals LLC, a wholly owned subsidiary of Media Source, Inc. No redistribution permitted.
---
Publishers Weekly
(c) Copyright PWxyz, LLC. All rights reserved

Ada and Zubizaretta's (Dancing Home) uneven collaboration focuses on the deep bond between Mexican-American sixth-grader Amalia and her grandmother. When Amalia's best friend, Martha, moves away from Chicago, Amalia's Abuelita helps Amalia cope with the anger and sorrow. But when Abuelita unexpectedly dies, Amalia descends into an overwhelming grief that renders her unable to connect with the many relatives who descend upon their household-and whose stories Abuelita often shared with her on their weekly Fridays together. The authors successfully depict family love and closeness across generations and distances, but their combined voice lacks energy, relying on summaries and platitudes: "Moments like this made their friendship so special." Two of the livelier sections are memories: one of a camping trip with Martha's family and one of Amalia's grandmother's guidance in helping her granddaughter resolve a wrong action. In the final chapters, when Amalia directly faces her grief and reaches out to her relatives, the book finally takes on an authentic emotional poignancy, bringing a closing richness to this story of a girl's first experience of loss. Ages 8-12. Agent: Adriana Dominguez, Full Circle Literary. (July) (c) Copyright PWxyz, LLC. All rights reserved.
---
Book list
From Booklist, Copyright © American Library Association. Used with permission.

Latina sixth-grader Amalia is so upset by her best friend Martha's move from their Chicago neighborhood to California that she can't even say good-bye. When her beloved abuelita passes away suddenly a few days later, she doesn't even have the chance to say good-bye. As her relatives arrive from various Spanish-speaking countries, their mourning also becomes a celebration of togetherness after so much time apart. All Amalia can think about is no longer spending time in her grandmother's kitchen, listening to stories about aunts, uncles, and cousins and creating delicious treats like melococha, a taffy made from honey. When her mother gives her Abuelita's olive-wood box, filled with letters sent from family over the years, Amalia realizes the importance of staying connected with Martha and just how to do it. Sprinkled with Spanish words and phrases, this quiet story charmingly emphasizes the importance of both friendship and intergenerational relationships. It concludes with simple recipes for making some of Abuelita's favorite desserts.--Leeper, Angela Copyright 2010 Booklist