Reviews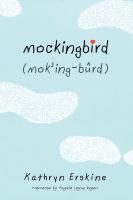 School Library Journal
(c) Copyright Library Journals LLC, a wholly owned subsidiary of Media Source, Inc. No redistribution permitted.

Gr 4-6-Ten-year-old Caitlyn seeks closure. She's not entirely sure what closure is, but she knows that it will help her come to grips with the death of her big brother Devon. And she's not the only one who needs it-the school shooting that claimed Devon's life has plunged her entire town into a morass of sorrow and confusion. But Caitlyn has Asperger's syndrome. She experiences the behavior of others as a series of unrelated vignettes whose meaning she must puzzle out. While she has some tools for solving these puzzles-the facial expressions chart in the counselor's office helps-her best guide has always been Devon. Caitlyn's extremely literal interpretations, unbiased reactions, and open-hearted attempts at friendship and empathy help those around her gain fresh perspectives. Devon always knew this about her, which is why he called her Scout, after the character in To Kill a Mockingbird. Caitlyn's errors and successes at parsing her world invite discussion and reflection. Although it can be difficult to distinguish between Caitlyn's thoughts and her dialogue when listening to this book by Kathryn Erskine (Philomel, 2010), Angela Jayne Rogers's unadorned narration is poignant and forthright, making this title ideal for a group read/listen.-Paula Willey, Baltimore County Public Library, MD Copyright 2010 Reed Business Information.