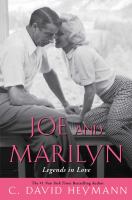 Book list
From Booklist, Copyright © American Library Association. Used with permission.

When baseball great Joe DiMaggio finally got his wish to meet Marilyn Monroe, his career had recently ended, though he was still much beloved, and her career as a starlet was just beginning to take off. The 12-year difference in their ages, along with her penchant for affairs with older father-figure men and his already failed marriage and self-absorption, didn't bode well for their relationship. But by 1954, they eloped, causing an international press sensation that only heightened when they split nine months later. His enormous ego and jealousy bristled at her rising fame and her delight in the publicity that went along with it. Despite the short duration of their scandal-ridden marriage, the couple remained devoted to each other. For 20 years after her death, DiMaggio had a rose regularly delivered to her grave site. Heymann, best-selling biographer of celebrities from Elizabeth Taylor to Bobby and Jackie Kennedy, offers an engaging portrait of the tumultuous relationship between two legends.--Bush, Vanessa Copyright 2010 Booklist
---
Publishers Weekly
(c) Copyright PWxyz, LLC. All rights reserved

Although Joe DiMaggio and Marilyn Monroe's marriage was short-lived, the late Heymann (Bobby and Jackie), in his final work, reveals why their Hollywood love affair remains one of the most famous in celebrity history. DiMaggio's and Monroe's dynamic personalities fueled romance and the attention of the media, and Heymann recounts with great skill the couple's close, tumultuous, and tragic relationship. When they met (a double date Monroe almost skipped), DiMaggio had finished his baseball career and Monroe's career was rising. Although their affection for one another was genuine, they were certainly not happily married. Celebrity gossip aficionados will thoroughly enjoy Heymann's well-researched yet approachable style. Using archival research and interviews with family and friends as well as contemporary secondary sources, Heymann renders impressively intimate portraits of both DiMaggio and Monroe, while demonstrating an understanding of their close friendship. Weaving their histories into a detailed narrative, Heymann provides room for analysis of their characters, and the result is as entertaining as it is informative. Agent: Mel Berger, William Morris Entertainment. (July) (c) Copyright PWxyz, LLC. All rights reserved.
---
Library Journal
(c) Copyright Library Journals LLC, a wholly owned subsidiary of Media Source, Inc. No redistribution permitted.

Gossip columnists thought the 1954 elopement and marriage of baseball great Joe DiMaggio (1914-99) and movie star and sex symbol Marilyn Monroe (1926-62) was a match made in heaven. Unfortunately, the couple's tumultuous union lasted only nine months and was marked by jealous rages, arguments, even physical violence. Heyman, a well-known biographer of the Kennedy family who died in 2012, shows how Monroe and DiMaggio were temperamental opposites. She seemingly had a split personality, sometimes warm and caring, at other times mean and manipulative, while "Joltin' Joe" was rigid, hated the Hollywood scene, and was often emotionally distant as a husband and as a father to his son from a previous marriage. After their divorce, DiMaggio remained in the background, supporting Monroe during and after her unhappy marriage to playwright Arthur Miller, through her numerous affairs, notably her disastrous involvement with John and Robert Kennedy, and ending with her final downward spiral and "unintentional suicide." This book provides testimony from friends and colleagues to recount the familiar but tragic story of the sensitive and gifted Monroe's rapid rise, decline, and fall. Readers looking for in-depth discussion of her films should look elsewhere. The author's approach is frank but fair to all parties. -VERDICT This tragic tale of a life too soon ended is recommended for movie and popular biography buffs.--Stephen Rees, formerly with Levittown Lib., PA (c) Copyright 2014. Library Journals LLC, a wholly owned subsidiary of Media Source, Inc. No redistribution permitted.