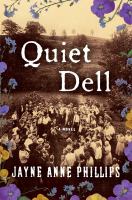 Library Journal
(c) Copyright Library Journals LLC, a wholly owned subsidiary of Media Source, Inc. No redistribution permitted.

This new title from Phillips, author of the National Book Award finalist Lark and Termite, reimagines the real-life murders of widow Asta Eicher and her three young children in 1931 Illinois. But this is not your standard crime fiction. The first third of the book introduces readers to the Eichers in the months leading up to their deaths, which helps to explain why Mrs. Eicher is desperate enough to exchange letters with complete stranger Harry Powers and then makes plans to marry him. The story then switches to the perspective of Emily Thornhill, a bright young reporter from the Chicago Tribune. The murders are not described in great detail; the narrative focuses on Emily's investigative reporting and the eventual trial of Harry Powers, who is accused of the killings. VERDICT For readers intrigued by the story line and not already familiar with the Quiet Dell murders, this work is an excellent introduction. It serves more broadly as a compelling and touching novel, particularly for anyone interested in true crime fiction, investigative reporting, and Depression-era settings. [See Prepub Alert, 4/29/13.]-Shaunna E. Hunter, Hampden-Sydney Coll. Lib., VA (c) Copyright 2013. Library Journals LLC, a wholly owned subsidiary of Media Source, Inc. No redistribution permitted.
---
Book list
From Booklist, Copyright © American Library Association. Used with permission.

*Starred Review* Phillips, the much-awarded and deeply admired writer of such fiction as Black Tickets (1979) and Machine Dreams (1984), now presents an astonishingly effective novel based on a true crime that took place in her native West Virginia in the early 1930s, material that has been brewing in her consciousness for years. The facts in the case are startling. Asta Eicher is a struggling widow in the Chicago suburb of Park Ridge and the mother of three children. A man calling himself Cornelius Pierson blows into Asta's life, and Asta entrusts herself and her family into this virtual stranger's care, moving to Quiet Dell, West Virginia. Soon the Eichers are discovered murdered. Emily Thornhill, a distinguished reporter for the Chicago Tribune, has been asked to investigate by the president of the Park Ridge First National Bank, who managed Asta's meager finances. Emily thus travels to Quiet Dell, one character remarking, This story will be dark. Around a core of real people and events, Phillips has indeed drawn a sad yet irresistible story of the defenseless victims of a serial murderer who possesses the lack of conscience so often true to his kind. In fact, the truth of all of Phillips' characterizations is what lies behind this careful novel's compelling momentum. HIGH-DEMAND BACKSTORY: A national print, TV, and radio publicity campaign will be carried out by the publisher, which will also provide an online reading-group guide, and the author will complete a multicity tour.--Hooper, Brad Copyright 2010 Booklist
---
Publishers Weekly
(c) Copyright PWxyz, LLC. All rights reserved

At the core of this sprawling new novel from the author of Lark and Termite is a series of real-life murders committed in 1931. A man calling himself Cornelius O. Pierson woos Asta Eicher, mother of three and recently widowed, in polished letters promising fidelity and financial security. After Asta disappears with Pierson, aka Harry Powers, the killer returns to Asta's home in Chicago to kidnap and brutally murder her three beautiful children. In Phillips's retelling, Emily Thornhill, a lovely staff writer for the Chicago Tribune, covers the case with her photographer colleague, Eric Lindstrom, and the Eicher family dog, Duty. She falls in love with the Eicher family banker, William Malone, who bankrolls much of the investigation, but she also becomes enthralled with the memory of the three dead children: simple Grethe; her brave brother, Hart; and their precocious little sister, Annabel. Phillips's plot is engaging, romantic, and fecund; her characters are beautiful, accomplished, and good-except for the bad guy, who is very bad indeed. The book veers dangerously close to melodrama, and the story drags when trying to stick too closely to the truth, but Phillips is a reader's writer. For every tedious page of the murder trial, mired in the story-lethal muck of facts, there is one of soaring lyricism. The best bits are Phillips's recreation of her characters' dreams, and especially the ethereal afterlife of the enchanting young Annabel, who is only nine when she is killed in a muddy field in Quiet Dell, W.Va. Agent: Lynn Nesbit, Janklow & Nesbit Associates. (Oct.) (c) Copyright PWxyz, LLC. All rights reserved.