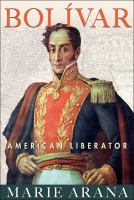 Publishers Weekly
(c) Copyright PWxyz, LLC. All rights reserved

The George Washington of South America cuts a dashing though dark-edged and ultimately tragic figure in this rousing biography. Peruvian journalist Arana (American Chica) chronicles Gen. Simon Bolivar's struggle against the Spanish Empire in the 1810s and '20s through several dizzying cycles of battlefield victory, triumphal procession, demoralizing reversal, and squalid exile, before he finally drove imperial forces out of Venezuela, Colombia, Ecuador, and Peru. Her vivid portrait shows us a charismatic man of high ideals, fiery oratory, unflagging energy and resolve, bold strategies, and a romantic aura-"he rode, ragged and shirtless... his wild long hair riding the wind"-that women found irresistible. (His preeminent mistress was no slouch herself: she once took up a sword to protect him from assassins.) Behind the epic marches, picturesque battles, and swirling ballroom scenes, the author smartly fills in the troubled background of the revolution, which descended from Enlightenment principles into bloody civil and racial conflict and grisly massacres that Bolivar sometimes fomented; his tense rule over politically fractious republics also declined from a vision of freedom and unity to an unpopular authoritarianism. Arana's dramatic narrative is appropriately grand and enthralling, if a tad breathless, and it makes Bolivar an apt embodiment of the ambitions and disappointments of the revolutionary age. 8 pages of color photos, 2 b&w maps. Agent: Amanda Urban, ICM. (Apr. 9) (c) Copyright PWxyz, LLC. All rights reserved.
---
Book list
From Booklist, Copyright © American Library Association. Used with permission.

*Starred Review* Arana is an indefatigable researcher, a perceptive historian, and a luminous writer, as shown in her defining, exhilarating biography of the great South American liberator Simon Bolivar. A household name in the southern half of the Americas, Bolivar nevertheless is generally unknown to North Americans, beyond the simple, Oh, yeah, I've heard the name. The good of this meticulous new account of Bolivar's exciting, to say nothing of consequential, life and times is that such a robust, dynamic, and, more importantly, easily accessible narrative goes to great lengths to rectify the North American unfamiliarity with Bolivar. The liberation of the South American colonies from the rule of the mother country was an even more complex, fits-and-starts program than the severing of ties between Great Britain and its Atlantic-seaboard colonies, but Arana follows the war in all its steps forward and back, at the end of which one man would be credited for single-handedly conceiving, organizing, and leading the liberation of six nations. Her understanding of the man behind the fame and behind the hostility that enveloped him in his later years brings this biography to the heights of the art and craft of life-writing. For more about the preparation of this book, see the adjacent Story behind the Story.--Hooper, Brad Copyright 2010 Booklist
---
Choice
Copyright American Library Association, used with permission.

As Simon Bolivar's life, writings, and legacy deserve greater attention in the English-speaking world, any effort to provide an accessible biography is welcome. This is true whether one is concerned with the legacy of Bolivar's political vision in the post-Chavez era, or curious as to how Bolivar compares to the US founding fathers, who all seem to merit annual reappraisals that run several hundred pages. Here, Washington Post columnist Arana has produced a story that will sate the curiosity of all but the most avid Bolivarianist. Hers is a lengthy, thoroughly researched, and lovingly detailed telling of Bolivar's life that casts "The Liberator" as an Olympian figure, a font of history, and a visionary. Arana gives every element of his life equal weight--his early years in Caracas, his time in Europe as a young man, his early political experiences, and his many military adventures. The work is readable, but its length and lack of a critical perspective make it an unlikely choice for academia, especially as John Lynch's Simon Bolivar: A Life (CH, May'07, 44-5216) was published less than ten years ago. Summing Up: Recommended. General collection, public libraries. J. M. Rosenthal Western Connecticut State University
---
Library Journal
(c) Copyright Library Journals LLC, a wholly owned subsidiary of Media Source, Inc. No redistribution permitted.

The cliche goes that history is written by the winners; in the case of Simon Bolivar, a remarkable military leader who liberated six South American countries from Spanish rule, this is not the case. Bolivar's legacy has been tarnished by many right up to the late Venezuelan president Hugo Chavez. Arana (former editor in chief, Washington Post Book World; Lima Nights) presents a human story of a wealthy Creole who, inspired by Enlightenment ideas, sought to bring South Americans of all colors responsible and representative government. As Arana aptly points out, his vision of equality went much further than the ideals of George Washington. Today, Bolivar is viewed either as the archetype of the Latin American strongman or an impossibly faultless crusader of equality. In her work, Arana adeptly finds the statesman behind the images. Drawing on Bolivar's voluminous correspondence and political writings, she assembles a chronological narrative that does justice to both Bolivar's august achievements and his human imperfections. This well-rounded work reveals not just an accomplished military tactician but also an able statesman. VERDICT This vivid biography flows smoothly and makes an important contribution to Bolivarian studies. It should appeal to readers both lay and academic, the more so as this is the bicentennial year of Bolivar's first independence campaign. [See Prepub Alert, 10/28/12.]-Brian Renvall, Mesalands Community Coll., Tucumcari, NM (c) Copyright 2013. Library Journals LLC, a wholly owned subsidiary of Media Source, Inc. No redistribution permitted.