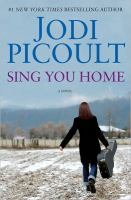 Library Journal
(c) Copyright Library Journals LLC, a wholly owned subsidiary of Media Source, Inc. No redistribution permitted.

After years of infertility, it looks as if Zoe and Max Baxter are finally going to have the baby they've longed for. But when their hopes are dashed by a miscarriage and their marriage collapses, Max escapes, first into alcoholism then into religion, while Zoe concentrates on her career as a music therapist. While working with a troubled teen at a local high school, Zoe begins a friendship with Vanessa, the school guidance counselor, which unexpectedly blossoms into love. Zoe again begins thinking of starting a family, specifically with the three embryos she and Max have in cold storage at the fertility clinic. VERDICT Never one to shy away from controversial issues, this time Picoult (House Rules) tackles gay rights, reproductive science, and the Christian right. She forces us to consider both sides of these hot topics with her trademark impeccable research, family dynamics, and courtroom drama. Sure to be a hit with her myriad fans and keep the book clubs buzzing; includes a CD of original songs by Picoult and musician Ellen Wilber, which correspond to the chapters in the book.-Jeanne Bogino, New Lebanon Lib., NY (c) Copyright 2010. Library Journals LLC, a wholly owned subsidiary of Media Source, Inc. No redistribution permitted.
---
Book list
From Booklist, Copyright © American Library Association. Used with permission.

Popular author Picoult tackles the controversial topic of gay rights in her latest powerful tale. When music therapist Zoe Baxter's latest pregnancy ends in a stillbirth, her husband Max decides he can't handle any more heartbreak and leaves her. As she picks up the pieces of her life, Zoe is surprised to find herself falling for a school counselor who happens to be a woman. While Zoe is finding happiness with Vanessa, Max falls off the wagon and is helped by a pastor from his brother's evangelical church. Vanessa and Zoe wed in Massachusetts, and Vanessa offers to carry one of the fertilized embryos Zoe and Max stored. Excited by the prospect of being a mother, Zoe goes to Max to get him to release the embryos to her and is shocked when he instead sues her for custody of them, backed by his church. Told from the perspectives of all three major characters, Picoult's gripping novel explores all sides of the hot-button issue and offers a CD of folk songs that reflect Zoe's feelings throughout the novel. HIGH-DEMAND BACKSTORY: The always topical Picoult plans a multimedia tour to more than two dozen cities with Ellen Wilber, who will perform the songs she and Picoult wrote together.--Huntley, Kristine Copyright 2010 Booklist
---
Publishers Weekly
(c) Copyright PWxyz, LLC. All rights reserved

Picoult's overstuffed latest (after House Rules) is stretched just to the breaking point. Max and Zoe's marriage, stressed by infertility problems and miscarriages, is finally destroyed by a stillborn baby. After their divorce, Max moves in with his brother and sister-in-law, Reid and Liddy, and backslides into self-destructive drinking, while Zoe devotes herself to music therapy (the book is accompanied by a CD in Zoe's voice, with awkward lyrics by Picoult) and develops a friendship with guidance counselor Vanessa that eventually turns into love and marriage. Max, meanwhile, converts to an evangelical brand of Christianity that pits him against Zoe when she asks Max for permission to use their frozen embryos. Max's discomfort with Zoe's same-sex relationship and his desire to repay Reid and Liddy, who have their own fertility problems, mean a legal battle looms. Picoult abandons her usual efforts to present an equal view of both sides of an issue-Max is a pitiful right-wing puppet; Zoe, Vanessa, and their attorney are saintly-but her devoted fans will nevertheless find everything they expect: big emotion, diligent research, legal conflict, and a few twists at the end. (Mar.) (c) Copyright PWxyz, LLC. All rights reserved.