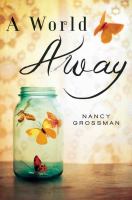 Publishers Weekly
(c) Copyright PWxyz, LLC. All rights reserved

At age 16, Eliza feels trapped by the conservative traditions of her Amish community. During her "rumspringa," a time when Amish teenagers are allowed to "step out of the plain world," she has the opportunity to be a nanny for a family in the Chicago suburbs. Eliza is thrilled with her new contemporary wardrobe and the modern conveniences available to her, but she didn't anticipate falling in love with a neighbor, Josh, who introduces her to the Rolling Stones and the telephone, or discovering secrets that will significantly change her view of her family. Although Eliza's new life is easier in many ways, the moral dilemmas she encounters are more complicated than any she's previously met. In this honest and meticulously detailed first novel, Grossman offers a rare glimpse into Amish culture, bringing to light core values and the difficulties Amish people, especially teens, face living apart from the rest of the world. Eliza emerges as an intelligent, vulnerable heroine who gains wisdom and maturity from the mistakes she makes and the friendships she builds. Ages 12-up. Agent: Holly Root, Waxman Literary Agency. (July) (c) Copyright PWxyz, LLC. All rights reserved.
---
School Library Journal
(c) Copyright Library Journals LLC, a wholly owned subsidiary of Media Source, Inc. No redistribution permitted.

Gr 9 Up-In this coming-of-age story with a cultural twist, Eliza, 16, yearns to break free of the constraints and predictability of her plain life as an Amish teen in Iowa. There are wonderful people in her life-loving parents, best friends, and Daniel, who would like to be more than a friend. Still, a restless energy drives her to see and know something different. For her rumspringa (an Amish teen's chance to explore the outside world), Eliza is able to convince her parents to allow her to work as a nanny outside Chicago. She sees modern conveniences such as electricity, cell phones, and computers for the first time and experiences putting on makeup and worrying about what to wear. She soon meets Josh, who appreciates that she is not a cookie-cutter personality like other girls. Although he is a conscientious young man, he arranges for them to attend a party where they both drink too much. Eliza becomes ill and in his rush to get her home, Josh drives into a garage door. Both teens accept that they made mistakes and pay for the damages. Surprises about Eliza's family and her perpetual state of wonder at the unfamiliar world she has landed in keep the story moving forward. Eliza learns about an aunt she never knew she had and her mother's own experience on her rumspringa. Ultimately, she reflects on what she has seen and who she misses and comes to the decision to return to her community. This novel is an easy read that provides a window into another way of life.-Joanne K. Cecere, Monroe-Woodbury High School, Central Valley, NY (c) Copyright 2012. Library Journals LLC, a wholly owned subsidiary of Media Source, Inc. No redistribution permitted.