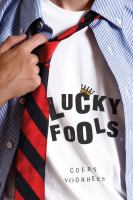 Book list
From Booklist, Copyright © American Library Association. Used with permission.

Could the stress level at exclusive Oak Fields Prep get any more toxic for theater phenom David and his classmates? Parents merchandise their kids as college prospects, and the administration piles on similar pressure. One student, dubbed The Artist, secretly slaps embarrassing photos in posters around school in guerrilla warfare against Oak Fields' best and brightest. David's dream is to study theater at Juilliard, and to do so he needs to ace a tough audition and face parental disapproval for pursuing (in Dad's view) an impractical career. Meanwhile, David juggles feelings for two girls and navigates the intense weekend drinking scene as he tries to lay the groundwork for life after high school. Voorhees has penned a hard-hitting, bitingly satiric, yet poignant tale of a senior year from hell. Readers will be enveloped in authentic teen angst throughout and will be holding their breath for David's climactic audition. Prepare for smart dialogue, prep-school lampoonery, and a surprise twist at the end that, while it strains belief, still carries a noble swagger.--O'Malley, Anne Copyright 2010 Booklist
---
Publishers Weekly
(c) Copyright PWxyz, LLC. All rights reserved

For the seniors at prestigious Oak Fields Prep, the pressure is on to get into an Ivy League school or to nearby Stanford University. But David Ellison, star of the school play (a bizarre interpretation of The Great Gatsby), wants to go to Juilliard instead. As David's Juilliard audition and the play's opening night approach, he is plagued with doubts about his acting ability and his relationships with two girls: new student/leading lady Vanessa and Ellen, his overachieving girlfriend. In this somewhat muddled portrait of an actor as a young man, it remains uncertain whether David is as "honest" and insightful as the character he plays or as much of a phony as his competitive peers. David suffers some painful falls onstage and off, but gains some self-awareness in the novel's farfetched climax. Voorhees (The Brothers Torres) succeeds in conveying the cutthroat atmosphere of an exclusive high school, where one follows expectations not dreams. However, his characters are underdeveloped, rarely moving beyond the realm of rich, spoiled students with big ambitions. Ages 12-up. Agent: Sara Crowe, Harvey Klinger. (July) (c) Copyright PWxyz, LLC. All rights reserved.
---
School Library Journal
(c) Copyright Library Journals LLC, a wholly owned subsidiary of Media Source, Inc. No redistribution permitted.

Gr 8 Up-High school senior David Ellison, the popular acting star of Oak Fields Prep in Palo Alto, California, plans to audition for Juilliard instead of his parents' choice, Stanford. He has a goal-minded girlfriend, Ellen, but with the arrival of intriguing newcomer Vanessa, David's costar in the school's production of The Great Gatsby, a complicated romantic triangle develops. When the privileged students of Oak Fields learn that revered Stanford University will admit only one senior, insecurities and competitiveness abound. An anonymous prankster, The Artist, begins posting incriminating photo collages of individuals outside the college counseling office, undermining the highest achievers in the school. Struggling to sort out his romantic entanglement, anxious about his Juilliard audition, and worried that he'll be a target of The Artist, David finds his confidence weakening. In a moment of clarity and self-realization, he breaks out of character during a performance to say that "The only future we can believe in.is the one we create for ourselves." Snappy dialogue, witty and sarcastic observations, a diverse cast of adult and teenage characters, relevant Gatsby themes, and a heap of parental and peer pressure make David's story an entertaining cautionary tale about privileged students with a sense of entitlement. Teens will enjoy the protagonist's candor and humor, and, of course, the satisfying ending.-Gerry Larson, formerly at Durham School of the Arts, NC (c) Copyright 2012. Library Journals LLC, a wholly owned subsidiary of Media Source, Inc. No redistribution permitted.