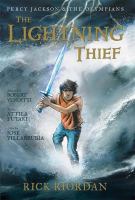 Publishers Weekly
(c) Copyright PWxyz, LLC. All rights reserved

Venditti's adaptation of the critically acclaimed first installment of the Percy Jackson & the Olympians series faces a daunting challenge: to present a beloved, contemporary, young adult fantasy novel as a 128-page visual narrative. But the team succeeds in spectacular fashion. Venditti (The Surrogates) takes the story of the half-blood Percy-who discovers that he is both the son of a god and the prime suspect in a theft of cosmic implications-and forges an adaptation that does justice not simply to Riordan's story but works perfectly as a graphic novel. The book retains the excellent pacing of the original and gives a face to Riordan's vision of the mythological made modern. Futaki's artwork is exemplary, but what leaves such a lasting impression is Villarrubia's coloring, which reveals both subtlety and spectacle when needed. The graphic novel compression must, of necessity, sacrifice something, namely some of the humor of the original. Ages 10-up. (Oct.) (c) Copyright PWxyz, LLC. All rights reserved.
---
Book list
From Booklist, Copyright © American Library Association. Used with permission.

How could it have taken five years to see a graphic-novel adaptation of such a successful property as the Percy Jackson and the Olympians series, and one that, with its heroic destinies and epic action, seems tailor-made to the format? Riordan's original, like Harry Potter as if reimagined by Neil Gaiman, hits all the straightforward archetypes, with young Percy Jackson clued into the secret that he's actually the son of Greek god Poseidon, then educated at Camp Half-Blood with the other illegitimate demigods before embarking on a hero's journey to stop a war of the Olympians. But Riordan also injected a sense of thorny reality with twists like Percy's good-for-nothing stepfather and the entrance to Hades residing in a soulless Los Angeles. Where the slick and flashy movie version failed, Venditti's sharp-edged writing and Futaki's gritty and unprecious art capture the same sense of grunge amid the wonder. A timely release that can be recommended with George O'Connor's recent Olympians graphic novels, proving that while five years may seem too long, at least the wait was worth it.--Karp, Jesse Copyright 2010 Booklist
---
School Library Journal
(c) Copyright Library Journals LLC, a wholly owned subsidiary of Media Source, Inc. No redistribution permitted.

Gr 4 Up-Riordan's highly popular "Olympians" series (Hyperion/Disney) is now a graphic novel. Half-Blood Percy Jackson is the son of a mortal mother and the Greek god Poseidon, which explains why he has always felt out of place among his schoolmates. After learning of his paternity, he is charged with the dangerous mission of locating his Uncle Zeus's missing lightning bolt and returning this symbol of power to its rightful owner. Expert editing keeps the salient parts of the story intact while showcasing the additional storytelling capabilities that the graphic format allows. Excellent panel layout makes the story line easy to follow. The use of angled panels in highly dramatic action scenes is particularly effective. As readers follow Percy's adventures, they are also keenly aware of his personal struggles, as facial expressions help readers to relate to this boy "who doesn't fit in." Illustrations brilliantly illuminate the story, portraying seamless world-blending, from typical school drama and well-known U.S. landmarks to mythological elements. A man seated in one panel casually stands to reveal his true identity as a centaur, the eerie woman seated in the attic is an Oracle, and the Nereid of the undersea kingdom seems a natural part of Percy's world. This blend of mythology and magic with realistic action and adventure brings an added dimension and delightful nuances to this adaptation of the well-known novel. Both ardent followers of Riordan's books and those new to the series will not be disappointed.-Barbara M. Moon, Suffolk Cooperative Library System, Bellport, NY (c) Copyright 2011. Library Journals LLC, a wholly owned subsidiary of Media Source, Inc. No redistribution permitted.