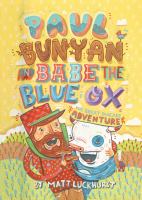 Book list
From Booklist, Copyright © American Library Association. Used with permission.

Many kids know American hero Paul Bunyan and his famous blue ox, but this picture book reveals a little-known fact about both of them: they were pancake lovers. Using his signature style of meshing art and text, Luckhurst introduces Paul and Babe the Blue Ox, living on the banks of the St. Lawrence River. While their town is abundant in giant fruits and veggies, Paul and Babe opt for pancakes at each meal ( green things are for the rabbits ), much to Paul's mom's dismay. Soon the book moves into tall-tale territory, as Paul and Babe leave home to seek their Pancake Fortune, and end up using their mouths to save Syrup River from a pancake spill. From there, they aid in the creation of both the Rocky Mountains and the Grand Canyon (yes, you-know-what are involved). The cartoonlike, folksy gouache-and-paper illustrations are fitting for the larger-than-life story, and the hand-lettered typeface adds extra oomph. An author's note reveals that Paul and Babe's penchant for pancakes is well documented. A batter-thin premise, but yummy nonetheless.--Kelley, Ann Copyright 2010 Booklist
---
Publishers Weekly
(c) Copyright PWxyz, LLC. All rights reserved

Newcomer Luckhurst's manic gouache artwork and hand-lettered typography grab attention in this pancake-themed twist on the Paul Bunyan legend. Luckhurst leaves it to parents to explain what a lumberjack is and instead focuses on Paul and Babe's steady diet of pancakes, despite Paul's mother's attempts to feed them healthier food ("I just cannot keep feeding you and Babe all these pancakes," she complains, wielding a spatula and whisk, surrounded by stacks of flapjacks. "I have fields to tend"). Paul and Babe leave home to seek their (pancake) fortune; in one episode, Babe chases a tasty pancake and Paul tries to hold him back: "When Babe finally caught the pancake, he and Paul had dug up a huge swath of dirt that is now called the Grand Canyon." After milking the pancake jokes for as long as he can, Luckhurst capitulates to the vegetable lobby and sends Paul and Babe home to eat broccoli. The sheer voltage of Luckhurst's artwork-Robert Neubecker by way of Robert Crumb-makes this a notable debut, one whose boisterous display type lends itself to noisy readalouds. Ages 4-8. (Oct.) (c) Copyright PWxyz, LLC. All rights reserved.
---
School Library Journal
(c) Copyright Library Journals LLC, a wholly owned subsidiary of Media Source, Inc. No redistribution permitted.

K-Gr 2-Paul Bunyan was "a very big boy, born in a very small town on the banks of the St. Lawrence River." He and his blue ox, Babe, have trouble concentrating on anything but Mom's pancakes. She spends so much time making them that she can't tend her fields, and Paul and Babe's attempts to help out only end in squashed vegetables. So they decide to "follow their stomachs and find their pancake fortune out in the great big world." They meet Brimstone Bill, who keeps them in pancakes while they help him log the land. Along the way, of course, they manage to create the Rocky Mountains and the Grand Canyon. When they start to feel sick from eating too many pancakes, they head home to Mom, who feeds them good food while they help her grow "Bunyan-sized veggies." Luckhurst's gouache-on-paper artwork is bright and bold, and the text works well as a storytime read-aloud. As one would expect, the author takes the exaggerated and hyperbolic aspects of this tale and uses them to great effect. However, the book's page design is busy with unnecessary emphasis on sections of text, and this detracts from the depiction of Paul and Babe's scale and size; it can also make the text difficult to read, especially where it gets integrated into the art. While this tale might work as a fresh approach to promoting balanced diets, Steven Kellogg's Paul Bunyan (HarperCollins, 1985) remains the gold standard for introducing this larger-than-life character.-Laura Lutz, Pratt Institute, New York City (c) Copyright 2012. Library Journals LLC, a wholly owned subsidiary of Media Source, Inc. No redistribution permitted.