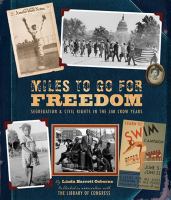 School Library Journal
(c) Copyright Library Journals LLC, a wholly owned subsidiary of Media Source, Inc. No redistribution permitted.

Gr 6-10-This companion to Osborne's Traveling the Freedom Road: From Slavery and the Civil War Through Reconstruction (Abrams, 2009) painstakingly documents a period of "widespread discrimination, cruel prejudice and daily humiliation" from the late 19th to mid-20th century. The book showcases pieces from the Library of Congress's African-American history collection, including photographs, drawings, and documents. Each page is laid out in a restrained scrapbook style with dynamic black-and-white photos and reproductions offset by jewel-toned frames. The text is elegant and understated. Drawing on personal interviews, the author provides incidents of everyday racism that young people will be able to grasp and relate to immediately. One man recalls growing up in North Carolina, where African Americans were served hot dogs through a 12-inch hole in a wall at the back of a restaurant rather than served face-to-face. One striking photograph shows a man in profile climbing steep stairs to a separate "colored" entrance to a movie theater, while another depicts a burned-out, broken-down school bus for black children. A letter from 1926 contains a one-sentence letter: "I am sorry, but no colored students are accepted at the Peabody University." Osborne's archival and storytelling talents are equally powerful. Her clear-sighted narrative does not hold back from exposing cruelty, but she never lets sorrow overwhelm it.-Jess deCourcy Hinds, Bard H.S. Early College, Queens, NY (c) Copyright 2012. Library Journals LLC, a wholly owned subsidiary of Media Source, Inc. No redistribution permitted.
---
Book list
From Booklist, Copyright © American Library Association. Used with permission.

*Starred Review* In this companion volume to Traveling the Freedom Road (2009), Osborne once again offers a handsome, highly readable overview of African American history, focusing here on both the South and the North during the late nineteenth century through the mid-twentieth century. Drawing on her work as a senior editor at the Library of Congress, Osborne bolsters her gripping account with many quotes from primary sources, including interviews with those who were young during the time period covered. The history and politics are brought home by the moving personal stories, which show that separate is not equal and demonstrate how the laws written and unwritten resulted in widespread discrimination, cruel prejudice, and humiliation. Period photos, including public events, such as a teen lynching; magazine illustrations; and prints fill every double-page spread. After the first section on the South, the following section about the North focuses on the Great Migration, exploring not only the reasons why African Americans left but also the often chilly reception they received when they arrived. The final short section about the nation as a whole ends with the triumph of Brown v. Board of Education, which opened the way for the civil rights movement. Spacious back matter includes a time line, extensive notes, and a bibliography. A must for classroom discussion and research.--Rochman, Hazel Copyright 2010 Booklist
---
Publishers Weekly
(c) Copyright PWxyz, LLC. All rights reserved

Osborne continues her chronological exploration of the racial history of the United States, following Traveling the Freedom Road (2009) with a detailed and thought-provoking account of segregation, with specific focus on the tumultuous years between the 1896 Plessy v. Ferguson decision (which came to establish the idea of "separate but equal") and Brown v. Board of Education in 1954. Osborne writtes that for the two decades following the passage of the 14th and 15th Amendments, "disfranchisement (not being allowed to vote) and rigid legal segregation did not exist." Nevertheless, she explains, concerted efforts by Southern states led to the establishment of voting literacy tests and other changes to state-level voting laws, which aimed to counteract the gains made during Reconstruction, as well as the Jim Crow laws, which separated blacks and whites both physically and psychologically. Published in association with the Library of Congress, the book offers numerous captivating b&w photographs, first-person accounts of horrific violence and dehumanization, and descriptions of individual and collective defiance. A valuable and comprehensive perspective on American race relations. Ages 10-14. (Feb.)? (c) Copyright PWxyz, LLC. All rights reserved.