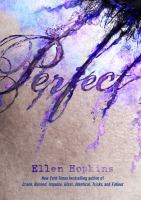 Publishers Weekly
(c) Copyright PWxyz, LLC. All rights reserved

Hopkins sticks to the signature style that has made her books bestsellers, blending verse poetry with controversial topics. In her eighth novel, four teenage protagonists alternately narrate their struggles with perfection. Sean and Kendra's struggles are physical-he's a baseball player who turns to steroids, and she's an aspiring model who develops a severe eating disorder ("Real control is/ not putting in more than you can work off.... Shaving off every caloric unit you can/ without passing out"). Cara and Andre's issues are more about identity (Cara is an all-American girl realizing she is a lesbian, while Andre is under parental pressure to pursue a lucrative, ambitious career path and is afraid to admit his passion for dance). This is a sequel, of sorts, as Cara's twin, Conner, a protagonist in Hopkins's suicide-themed book, Impulse, makes an appearance. There is an overabundance of plot points, as readers learn about Sean's dead parents, Kendra's racist father, a vicious attack on Kendra's sister, and more. But Hopkins explores enough hot-button issues (rape, teen plastic surgery, cyberharassment, etc.) to intrigue her fans and recruit new ones. Ages 14-up. (Sept.) (c) Copyright PWxyz, LLC. All rights reserved.
---
Book list
From Booklist, Copyright © American Library Association. Used with permission.

In this companion to Impulse (2007), Hopkins addresses teens' struggles with unrealistic expectations in gut-wrenching free verse. Top student and athlete Cara wrestles with sexual orientation, while her twin brother and suicide survivor Connor struggles to overcome parental pressure to achieve. Cara's boyfriend, Sean, battles steroids' effect on his psyche, while would-be model Kendra descends into anorexia, and Andre tries to find the courage to tell his parents he intends to follow his dream to be a dancer. Fans of Hopkins' heartfelt, direct, and empathetic voice will not care that format and thematic material are much the same as previous titles.--Carton, Debbie Copyright 2010 Booklist
---
School Library Journal
(c) Copyright Library Journals LLC, a wholly owned subsidiary of Media Source, Inc. No redistribution permitted.

Gr 9 Up-This companion to Impulse (S & S/Pulse, 2007) can stand alone, but packs considerably more punch when read contiguously as intended. Impulse featured the interlocking narratives of Vanessa, Tony, and Conner, teens confined to a psychiatric facility after failed suicide attempts. Cara, Conner's twin, is Perfect's first narrator. Her story begins immediately after Conner's departure for the facility. She is on the cusp of her high school graduation and attempting to figure out who she is, if not the perfect image her mother expects. Kendra, Conner's ex-girlfriend, will do anything to become a model, regardless of what it means for her health or sense of self-worth. Andre wants to be a dancer, though this goal couldn't be further from what his parents expect for him. Sean is dead set on being with Cara for the long haul and dreams of playing ball at Stanford, but what will he sacrifice to get there? As Hopkins's readers have come to expect, each of the teens' lives spins out of control over the course of the novel as they stumble through sexual awakenings and violations, violent crime, and confrontations with racism. Some characters' voices are less clear than others. Andre's story, for example, focuses so much on his relationship with Kendra's daredevil sister that his important internal struggle-to dance or not to dance-is underplayed. Yet Hopkins's legions of fans will no doubt devour Perfect and welcome the return of the characters they learned to love in Impulse.-Jill Heritage Maza, Montclair Kimberley Academy, Montclair, NJ (c) Copyright 2011. Library Journals LLC, a wholly owned subsidiary of Media Source, Inc. No redistribution permitted.