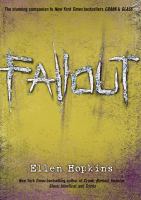 Publishers Weekly
(c) Copyright PWxyz, LLC. All rights reserved

The final installment of the trilogy that began with Crank and Glass examines the impact of Kristina's methamphetamine addiction on three of her children, now teens. Though not raised by their mother, they are still "dealing with the fallout of choices" she made, beginning in her own teenage years, as the narrative shifts among them. Hunter is quick to anger and experiments with substances, too; Autumn suffers from OCD and panic attacks because "things happened" when she was little; and Summer bounces around to different foster homes before running away with her boyfriend. Fans will recognize the author's trademark style: this is a gritty, gripping collection of free verse and concrete poems. Hopkins neatly creates news articles attributed to Associated Press, Variety, and other sources, clueing readers in to the fates of other characters from the first two books. In the end, readers will be drawn into the lives of each of these struggling teens as they deal with complicated home lives, first loves, and a mostly absent mother who "wants to love them," but is too damaged to do so. Ages 14-up. (Sept.) (c) Copyright PWxyz, LLC. All rights reserved.
---
Book list
From Booklist, Copyright © American Library Association. Used with permission.

Simply put: if you liked Crank (2004) and Glass (2007), this trilogy finale will not disappoint. Hopkins shifts the point of view from meth-user Kristina to her three teenage kids; it's a brilliant tactic that shows just how deeply others are affected by a single person's addiction. Before it's over, the three kids Hunter, Autumn, and Summer will experience anger, longing, loneliness, drugs, pregnancy, homelessness, and even, believe it or not, hope. Hopkins' free-verse stanzas are as engaging as always, though prose this observant and strong would be powerful even if arranged in standard paragraphs. An emotional, satisfying end (and a new beginning, in a way) to Kristina's story.--Kraus, Daniel Copyright 2010 Booklist
---
School Library Journal
(c) Copyright Library Journals LLC, a wholly owned subsidiary of Media Source, Inc. No redistribution permitted.

Gr 9 Up-Kristina, the meth-addicted antiheroine of Crank (2004) and Glass (2007), has five children by four different men. Fallout is about the lives of her three oldest children. Hunter lives with his grandmother in Nevada. He cheats on his girlfriend and smokes a lot of dope. Autumn lives with her sweet aunt and gruff granddad in Texas. She has OCD and knows little about her mother. Summer lives in a trailer in California with her father and a string of abusive/slutty/stupid girlfriends. She hates pretty much everyone. Hopkins's not-quite poetry is as solid as ever, though her use of visual formations gets more mystifying and extraneous with each novel. Unfortunately, it's unlikely that Glass is fresh in the minds of most readers. As such, the Venn diagram of Kristina's baby-daddies, parents, grandparents, aunts, uncles, and drug buddies -is impossible to follow, and may frustrate even the most interested readers. So much deciphering cripples the pace of Fallout. The plot is choked with the perpetual damage of meth addiction-there's too much message and not enough action. Hopkins spreads the narration too thin between three unlikable narrators, and none is ever fully realized. The mood here is just as depressing and cautionary as Glass, and Hopkins's presentation is even more self-indulgent.-Johanna Lewis, New York Public Library (c) Copyright 2010. Library Journals LLC, a wholly owned subsidiary of Media Source, Inc. No redistribution permitted.