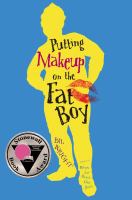 School Library Journal
(c) Copyright Library Journals LLC, a wholly owned subsidiary of Media Source, Inc. No redistribution permitted.

Gr 8 Up-Carlos Duarte, 16, has tremendous confidence. He does what he does and makes few apologies-and what he does best is makeup. The teen is fearless in his determination to realize his dream of becoming a makeup artist to the stars. His first job is at the FeatureFace counter, the premiere makeup company in Macy's flagship store. He is sure that this job will launch him into the stratosphere of fame, but pride and ambition cause him to take action without considering the consequences. Carlos struggles to develop a sense of accountability, and making his life more difficult are his sister's abusive boyfriend and his own one-sided crush on a boy in school. Readers will simultaneously root for and marvel at this fascinating character, though their support will be tested by his mean-spirited comments. Unfortunately, Carlos tends to overwhelm the plot and the other characters, who fall a little flat in his shadow. It is a relief that Wright does not give the story a tidy ending, opting instead to leave a few strands untied. After all, Carlos still has places to go.-Naphtali L. Faris, Youth Services Consultant, Missouri State Library, Jefferson City, MO (c) Copyright 2011. Library Journals LLC, a wholly owned subsidiary of Media Source, Inc. No redistribution permitted.
---
Book list
From Booklist, Copyright © American Library Association. Used with permission.

Meet Carlos Duarte, teen makeup artist manque. Though he is only a high-school student, Carlos has proven his ability as a makeup artist, and when he lands a part-time job at Macy's cosmetics counter, he figures he is well on his way to fame and fortune as a makeup artist to the stars. After a real star comes to the store and is impressed with Carlos, things get interesting. Unfortunately, his boss, Valentino, is insanely jealous and that makes things difficult. Meanwhile, Carlos' sister is dating a thug, who verbally abuses him for being gay and physically abuses his sister. And then there's Carlos' crush on Gleason, a cute boy at school. Obviously, there's a whole lot going on in Wright's novel, but it's handled deftly and, for the most part, believably. Best of all, Carlos is not completely defined by his homosexuality. It is an important part of him, yes, but so are his ambition, his concern for his sister, and his capacity for friendship.--Cart, Michae. Copyright 2010 Booklist
---
Publishers Weekly
(c) Copyright PWxyz, LLC. All rights reserved

Wright (When the Black Girl Sings) gives voice, complexity, and heart to the kind of character often relegated to a cliche sidekick role. Sixteen-year-old Carlos Duarte's dream is to become a famous makeup artist ("I've had subscriptions to Vogue and Harper's Bazaar since I was fourteen... so I knew what I was doing was beyond genius"). His considerable skills land him a plum job working the FeatureFace Cosmetics counter at Macy's, despite the reservations of manager Valentino. It's not long before Valentino and Carlos clash, and things at home are tough as well: Carlos's mother has lost her job, and his older sister is getting abused by her boyfriend, who is also harassing Carlos for being gay. Carlos's single-minded drive for success leaves some casualties in his wake (as when a $300 borrowed pair of "beyond incredible" boots are damaged when he's assaulted), but his big heart, optimism, and powers of persuasion are infectious. And given the very realistic harassment Carlos regularly suffers, those attributes are a survival skill, too. He's a walking example of the inner strength teens need-regardless of their sexuality. Ages 12-up. (July) (c) Copyright PWxyz, LLC. All rights reserved.