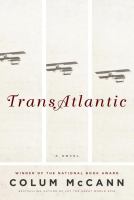 Library Journal
(c) Copyright Library Journals LLC, a wholly owned subsidiary of Media Source, Inc. No redistribution permitted.

In 1846, Lily Duggan, a Dublin servant girl, embarks for New York City on a quest for personal freedom. Her journey initiates a family saga connecting the lives of four women with Frederick Douglass's Irish journey in 1845, British aviators Alcock and Brown's 1919 flight from Newfoundland to Ireland, and U.S. Senator George Mitchell's work on the 1998 Belfast Agreement. The lives of Lily and her descendants resonate with shared experiences and an elusive yearning for fulfillment that often expresses itself as a plea for justice. At other times, this desire occupies a vacant existence caused by loss. The story closes with Hannah Carson, Lily's great-granddaughter, nearly forced from the family cottage on Strangford Lough in Northern Ireland, surprised by the tenderness of strangers wishing to create with her something new from her longing for the past. VERDICT McCann's sixth novel (after Let the Great World Spin) is majestic and assures his status as one of the great prose stylists of contemporary fiction as he effortlessly weaves history and fiction into a tapestry depicting all of life's wonders, both ephemeral and foursquare.-John G. Matthews, Washington State Univ. Libs., Pullman (c) Copyright 2013. Library Journals LLC, a wholly owned subsidiary of Media Source, Inc. No redistribution permitted.
---
Publishers Weekly
(c) Copyright PWxyz, LLC. All rights reserved

In 1919, two British veterans pilot a Vickers Vimy from Newfoundland to Ireland, becoming the first men to fly across the Atlantic, taking "the war out of the plane." In 1845, escaped American slave Frederick Douglass comes to Ireland at the start of the famine on a speaking tour, staying with Irish Quakers and inspiring their maid to seek her future in America. In 1998, decades into the Troubles, American Senator George Mitchell brokers the Good Friday Peace Accords. Darting in, past, and through these stories are generations of women, including the maid's descendants, Irish, American, Canadian, with sons lost to the civil wars of both continents. This is what interests McCann: lives made amid and despite violence; the hidden braids of places, times, and people; the way the old days "arrive back in the oddest ways, suddenly taut, breaking the surface." A beautiful writer, if overly partial to three-word phrases ("Kites of language. Clouds of logic") that can start to call attention to themselves, McCann won the National Book Award for Let the Great World Spin, which also linked disparate stories. This time though, while each story is interesting, the threads between them-especially in the last section, which features the maid's great-granddaughter-aren't pulled taut enough by shared meaning. Agent: Sarah Chalfant, the Wylie Agency. (June) (c) Copyright PWxyz, LLC. All rights reserved.
---
Book list
From Booklist, Copyright © American Library Association. Used with permission.

*Starred Review* In 1919, British aviators Alcock and Brown made the first nonstop transatlantic flight, from Newfoundland to Ireland. McCann, in his first novel since the National Book Award-winning Let the Great World Spin (2009), imagines a letter handed to Brown by a young photographer, written by her mother, Emily, a local reporter covering the flight, to be delivered upon their landing to a family in Cork. Years earlier, while on a speaking tour in Ireland with the mission to raise money for the abolitionist movement, Frederick Douglass forms a bond with young Isabel, the daughter of his host family in Cork. Lily, a young servant, emboldened by Douglass' visit, sets out for America, in the hope of a better life. About a century and a half later, former Senate majority leader George Mitchell is coaxed out of retirement to broker talks between the various factions, with the intention of getting a peace agreement by Good Friday. At the tennis club, he meets a woman in her nineties who, years earlier, had lost her grandson to the Troubles. It is Lily and her offspring's stories set across different times and in many different places that ultimately tie everything together, as McCann creates complex, vivid characters (historical and otherwise) while expertly mixing fact and fancy to create this emotionally involving and eminently memorable novel. HIGH-DEMAND BACKSTORY: Prepub buzz about McCann's latest suggests it will be among the summer's leading literary fiction titles.--Segedin, Ben Copyright 2010 Booklist