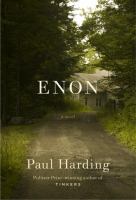 Library Journal
(c) Copyright Library Journals LLC, a wholly owned subsidiary of Media Source, Inc. No redistribution permitted.

Novelist Harding's literary debut, Tinkers, which won the 2010 Pulitzer Prize for Fiction, introduced the world to a New England clockmaker named George Washington Crosby. This second novel continues the family story through George's grandson, Charlie Crosby, a man tumbling into a downward spiral of drug abuse and depression following the death of his daughter. Charlie turns his trauma inward to preserve both the memory of his daughter and the town of Enon in which he was born and raised. The narrative is a bridge between these intertwined but disparate experiences. While Charlie paints a bucolic portrait of Enon in his mind, his body and overall appearance wither away. Eventually, his memories and drug-induced imagination conjure up his daughter's ghost, and the faculties of imagination and memory are presented as potentially harmful, leading to prolonged and intensified suffering. The reader is left to ponder whether grief is best remedied by hanging onto the memories of the past or by moving forward without them. VERDICT With crisp, descriptive language, Harding continues where his previous novel left off, exploring the complexity of family and mortality. [See Prepub Alert, 3/18/13.]-Joshua Finnell, Denison Univ. Lib., Granville, OH (c) Copyright 2013. Library Journals LLC, a wholly owned subsidiary of Media Source, Inc. No redistribution permitted.
---
Publishers Weekly
(c) Copyright PWxyz, LLC. All rights reserved

Drawing upon the same New England landscape and family as his Pulitzer Prize-winning debut Tinkers, Harding deftly captures loss and its consequences in this gorgeous and haunting follow-up. The novel opens with a grieving Charlie Crosby (grandson of Tinkers protagonist George Washington Crosby) attempting to come to terms with the death of his daughter, Kate, and the subsequent dissolution of his marriage. Although the narrative is rendered through Charlie's voice, the phenomenal prose on which Harding has staked his name comes out authentically, especially in the book's darkest and most introspective moments: "I felt like a ghost, listless and confined, wandering in a house that had been mine a century ago, relegated to examining the details of the lives of strangers." While the novel's first half is mired in the cyclical self-obsession and self-hatred of grief, and slows to a crawl for a few too many flashbacks, Charlie's eventual substance abuse and resulting hallucinations allow Harding to let his prose loose as he delves into the deepest aspects of loss and regret. Offering an elegiac portrait of a severed family and the town of Enon itself, Harding's second novel again proves he's a contemporary master and one of our most important writers. Agent: Ellen Levine, Trident Media Group. (Sept. 10) (c) Copyright PWxyz, LLC. All rights reserved.
---
Book list
From Booklist, Copyright © American Library Association. Used with permission.

*Starred Review* Harding, a writer preternaturally attuned to the spiraling of time and consciousness, continues the Crosby family story begun in his Pulitzer Prize-winning first novel, Tinkers (2009). Charlie was a solitary boy resistant to the confines of school, ecstatic in nature, and happy in the company of his clock-restorer grandfather, George Crosby. As a husband and father, Charlie loves to read, walk along the Enon River, study the long history of his Massachusetts village, and, best of all, share his passions with his receptive young daughter, Kate. Now all is lost in the shocking tragedy that propels this surreal, apocalyptic odyssey of grief. Writing with ferocious lyricism and macabre vision, Harding lures us deep into Charlie's memory and dreams, pain and desolation. Over a full cycle of New England seasons, Charlie, afflicted with the self-imposed stigmata of a broken hand and adrift in opiate-induced altered states, descends into squalor, inept criminality, and the terrors of the underworld, enacting his own private dire rituals of mortification and sorrow. Harding's mythic sensibility, soaring empathy for his devastated yet life-loving protagonist, comedic embrace of the absurd, and exquisite receptivity to the beauty and treachery of the living world make for one astonishingly daring, gripping, and darkly resplendent novel of all-out grief and crawling-from-the-ruins survival.--Seaman, Donna Copyright 2010 Booklist