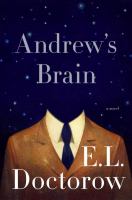 Book list
From Booklist, Copyright © American Library Association. Used with permission.

*Starred Review* A man is talking about a friend, a cognitive scientist named Andrew, but it doesn't take long for the person listening to him, possibly a psychoanalyst, to ask if he, in fact, is Andrew. He says he is. Furthermore, he reports that he's numb to all emotions and that he hears voices. Worse yet, he's been living under some sort of cosmic curse, unintentionally precipitating catastrophes right and left while he walks through the flames unscathed. There is much that is eerie and odd about Andrew's exchanges with an unidentified, mostly silent interlocutor, and the stories he tells induce us to question his veracity and sanity. Did he cause a fatal car crash? An infant's quiet death? A woman's disappearance on 9/11? Did he drink cocktails with midgets? Hang out with the president during their Yale days? In stunning command of every aspect of this taut, unnerving, riddling tale, virtuoso Doctorow confronts the persistent mysteries of the mind trauma and memory, denial and culpability as he brings us back to one deeply scarring time of shock and lies, war and crime. Writing in concert with Twain, Poe, and Kafka, Doctorow distills his mastery of language, droll humor, well-primed imagination, and political outrage into an exquisitely disturbing, morally complex, tragic, yet darkly funny novel of the collective American unconscious and human nature in all its perplexing contrariness.--Seaman, Donna Copyright 2010 Booklist
---
Publishers Weekly
(c) Copyright PWxyz, LLC. All rights reserved

In his newest novel, Doctorow (Homer & Langley) introduces an intriguing protagonist who poses sweeping questions about the composition of consciousness, the reliability of memory, and the existence of free will, and asks them again and again, sometimes philosophically, sometimes with a sense of alarm. The novel is structured as an extended series of conversations between Andrew, a cognitive neuroscientist by training, and an unnamed man who initially appears to be his psychotherapist. The book opens with Andrew's description of leaving his infant daughter with an ex-wife. When the baby's mother dies, Andrew claims to be too incapacitated by grief and self-doubt to care for the child. Paradoxically, Andrew-who refers to himself in both the first and the third person-also insists that he's incapable of emotion. It's not clear how much time has passed since he gave up the child, or how much time is passing as he tells his story, or if time for Andrew is linear at all. He recycles and synthesizes snippets of recollection, sometimes with details supplied by his questioner, and as he does he embellishes his history and reshapes its chronology. Despite their expansive themes and culturally significant imagery, Andrew's revelations are little more than clues to an amusing, if tedious, puzzle. Andrew believes that the brain cannot know itself, but the question is whether the reader can know Andrew's. (Jan.) (c) Copyright PWxyz, LLC. All rights reserved.
---
Library Journal
(c) Copyright Library Journals LLC, a wholly owned subsidiary of Media Source, Inc. No redistribution permitted.

In Doctorow's The March, readers are led into the mind of Union army general William Tecumseh Sherman as his troops burn their way through the Carolinas, leaving a wake of physical and psychological destruction. Here, the story master delivers the confined thoughts of Andrew, a troubled cognitive scientist, whose conversation with an unknown questioner details the dissolution of his own relationships, career, and connection with his child. Andrew's frantic language paints an increasingly fragmented worldview marred by disorientation. Though sardonic, he also injects a heavy dose of levity into his retellings, speaking to an optimistic humanism in the face of despair. Periodically challenged by the questioner, Andrew is forced to confront his tendency toward a revisionist history and critically focus on the emotional impact of his actions. VERDICT Through this dialectic narrative, Doctorow connects to the common theme seen throughout his work: one's history is often a battle between memory and self-struggle to maintain an image of morality and adequacy. Doctorow deftly captures the complex but beautiful vagaries of life in clean, simple language. [See Prepub Alert, 6/24/13.]-Joshua Finnell, Denison Univ. Lib., Granville, OH (c) Copyright 2013. Library Journals LLC, a wholly owned subsidiary of Media Source, Inc. No redistribution permitted.