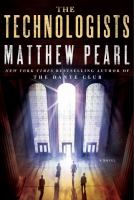 Book list
From Booklist, Copyright © American Library Association. Used with permission.

In a departure from his three previous novels, Pearl explores the early history of MIT. In 1868, the institute's first senior class nears graduation when ships in Boston harbor inexplicably plow into each other, causing massive damage and injury. Meanwhile, vendettas are born between Harvard and MIT when a fear of science is spread citywide by Harvard scholars infuriated by what they see as academic posing by their inferiors. Increasingly deadly events put MIT in the figurative dog house with the police. Pearl's signature complex plotting, strewn with red herrings and populated with unlikely villains, leaves readers as shocked and intrigued as the Bostonians. Dialogue evocative of the nineteenth century showcases well-researched period details but slows the pace, as MIT students engage in florid conversations. Still, Pearl's latest will certainly appeal to fans of leisurely paced, smart historical thrillers like Caleb Carr's The Alienist (1994) and Jed Rubenfeld's The Death Instinct (2011). HIGH-DEMAND BACKSTORY: Pearl's first three novels The Dante Club, The Poe Shadow, and The Last Dickens were all New York Times best-sellers. His latest, another literary-historical thriller, seems certain to join the elite club.--Baker, Jen Copyright 2010 Booklist
---
Publishers Weekly
(c) Copyright PWxyz, LLC. All rights reserved

Set in 1868 Boston, the latest historical fiction from Pearl (The Dante Club) finds protagonist Marcus Mansfield on the cusp of graduation from the newly formed Massachusetts Institute of Technology, where he studies intently, spies on the Catholic girls' school, and fights Harvard's unfriendly rowing team. Life at the school is upended after a strange set of calamities takes place. In foggy Boston Harbor, ships collide, and all the glass in the city's central commercial district suddenly liquefies, maiming and killing Bostonians. The police are at a loss, not sure if these are crimes at all. Harvard's best-and mostly incompetent-minds are enlisted to solve the crime, leaving Mansfield and his friends no option but to form a secret club and solve the mystery themselves. In order to do so, they must contend with a scarred man, Harvard's satanic Medical Faculty (Med Fac) club, and antiscience trade unionists. Lighter than his previous novels, Pearl again blends detective fiction with historical characters (such as pioneering feminist and MIT-trained scientist Ellen Swallow), and his cast reads like a who's who of 19th-century Boston. The novel is lighter than some of Pearl's previous work, but still great fun to read. (Feb.) (c) Copyright PWxyz, LLC. All rights reserved.
---
Library Journal
(c) Copyright 2010. Library Journals LLC, a wholly owned subsidiary of Media Source, Inc. No redistribution permitted.

Pearl's faultless fourth historical mystery centers on Boston in the late 1860s and the newly founded college that will become the Massachusetts Institute of Technology (MIT). Three male students from different class backgrounds and the institution's sole female student team up to research a series of scientific mysteries baffling the Boston police. As part of MIT's first secret society, the Technologists, the students use chemicals, experiments, and such inventions as a primitive submarine to track a murderer whose abilities and education seem to parallel their own. The Technologists race to stay ahead of the police while dueling with their Harvard rivals and fending off antagonism from the trade unionists, who resent MIT's role in mechanizing factories. VERDICT Pearl has a special talent for making likable detectives out of historical figures (The Dante Club) and for pulling compelling plotlines from biographies (The Poe Shadow; The Last Dickens). Here, MIT and Harvard are brought to the foreground and so well depicted that they become historical characters in their own right. This thriller won't disappoint Pearl's many fans. [Library and academic marketing; on December 5 the publisher released an e-original short story as a tie-in to this novel.-Ed.]-Catherine Lantz, Morton Coll. Lib., Cicero, IL (c) Copyright 2011. Library Journals LLC, a wholly owned subsidiary of Media Source, Inc. No redistribution permitted.