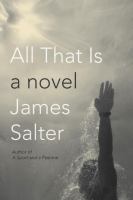 Publishers Weekly
(c) Copyright PWxyz, LLC. All rights reserved

The 87-year-old PEN/Faulkner Award-winner's (Dusk and Other Stories) first full-length novel in more than three decades spans some 40 years and follows the accidental life, career, and loves of book editor Philip Bowman. After serving in the Pacific during WWII, Bowman stumbles into publishing at a time when small houses reigned. During extravagant literary parties and travels through Europe, Bowman shares his thoughts on authors both real and imagined. And yet his career is merely a vehicle for his loves and losses, connections made and missed. The women in his life somehow never suit and his many endings are always inexplicable to him. But Salter renders the first blushes of Bowman's loves exquisitely-their giddiness, occasional illicitness, eroticism-and his bewilderment after the relationships fail feels achingly real. By way of counterpoint, the author illustrates the happy but tragic marriage of a close friend, which parallels rather than intersects, since Bowman fails to connect with anyone. The number of characters who parade through the book can frustrate, and Salter's choice to render, for a chapter, a well-known character anonymously was unnecessary. But Salter measures his words carefully, occasionally punctuating his elegant prose with sharp, erotic punches. Agent: Amanda Urban, ICM. (Apr.) (c) Copyright PWxyz, LLC. All rights reserved.
---
Book list
From Booklist, Copyright © American Library Association. Used with permission.

For decades, Salter has been an artistic standard-bearer. His first novel in many years begins percussively in 1944 with the unrelenting battles in the Pacific. Naval officer Philip Bowman, virginal and close to his mother, makes it safely home, moves to New York, and finds professional contentment as an editor at a small publisher. Even though he falls hard for Vivian, a wealthy southerner, he remains hermetically sealed. Their marriage fizzles quickly, and Bowman is smitten again, but he never gets it right. His obliviousness to women's inner lives leads to a shocking betrayal, and his crueler revenge. Still, this is a desultory, oddly slippery novel as Salter slides back and forward in time, glides into the lives of other characters, and considers the decline of the novel. The many sex scenes are doleful; the pegs to world events wobbly. Yet resonant passages bloom, including one that captures the book's subdued spirit: The landscape was beautiful but passive. The emptiness of things rose like the sound of a choir making the sky bluer and more vast. --Seaman, Donna Copyright 2010 Booklist
---
Library Journal
(c) Copyright Library Journals LLC, a wholly owned subsidiary of Media Source, Inc. No redistribution permitted.

Navy man Philip Bowman returns from World War II uncertain about his future. He takes a job at Braden and Baum, a small New York literary publisher, and though he is gradually promoted, romantic relationships form the center of his life. Bowman meets his first wife shortly after starting his job, but his New Jersey background is very different from Vivian's horse-country Virginia upbringing, and their marriage dissolves. While on a business trip he meets Enid, an Englishwoman whose background is equally different from his own. The two begin a torrid affair that distance eventually cools. On a cab ride following another business trip, he encounters Christine, a realtor, and begins another affair. -VERDICT Salter's tone combined with the post-World War II setting gives this work the feel of something from an earlier generation. With the ever-changing panorama of New York City and New York publishing as background, Salter addresses time, love, and the mystery and wonder of life itself. [See Prepub Alert, 5/1/12.]-Lawrence Rungren, Merrimack Valley Lib. Consortium, Andover, MA (c) Copyright 2013. Library Journals LLC, a wholly owned subsidiary of Media Source, Inc. No redistribution permitted.