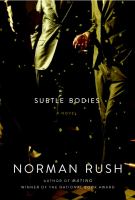 Library Journal
(c) Copyright Library Journals LLC, a wholly owned subsidiary of Media Source, Inc. No redistribution permitted.

Old friends reunite at a funeral in Rush's latest work, a basic plot here given lighthearted treatment. Chief among the group is Ned, coming from California to the East Coast and trailed by his wife, Nina, who mildly resents having been left behind but is mainly interested in continuing their attempts to conceive a child. The deceased is Douglas, a charismatic figure around whom the group coalesced at college in the 1970s, united by belief mostly in their superior intelligence but also encompassing vague political and theatrical forces. Douglas had resided on an estate in upstate New York, where, in addition to friends, various representatives of the international media appear to capture the elegiac ceremonies. Nina arrives and immediately immerses herself in the lives of Ned's gang as the novel unfolds in a humorous and unfunereal fashion, played out against the run-up to the Iraq invasion. Verdict This novel has the verbal play and digressions one might expect from Rush, author of the major works Mating and Mortals, but is briefer and more accessible. Readers will be immediately drawn into the acutely rendered world swirling around Ned and Nina. [See Prepub Alert, 3/25/13.]-James Coan, SUNY at Oneonta Lib. (c) Copyright 2013. Library Journals LLC, a wholly owned subsidiary of Media Source, Inc. No redistribution permitted.
---
Book list
From Booklist, Copyright © American Library Association. Used with permission.

Ned and Nina are working hard to get pregnant. But when Ned suddenly flies across the country to attend the funeral of college friend Douglas, Nina follows in hot pursuit. When she finally catches up with him, Nina finds her husband holed up in Douglas' upstate New York compound, surrounded by his former NYU roommates, instantly immersed in the rivalries and politics of their student days. Nina's role as an outsider gives her a unique perspective on the group as she watches them grapple with the death of their revered Douglas and attempt to reappraise their lives, relationships, and futures through the clarifying lens of the passage of time. Rush, author of the National Book Award-winning Mating (1991), has written a quiet, contemplative novel, bringing together a group of people whose pasts and presents have suddenly come face-to-face as they struggle to make sense of their personal histories. Subtle Bodies is a funny, deeply satisfying look at friendships why we make them, why we keep them, and how they change us over time.--Gladstein, Carol Copyright 2010 Booklist
---
Publishers Weekly
(c) Copyright PWxyz, LLC. All rights reserved

Norman Rush is famous (and popular with readers who like their novels dense with word play and complication) for very long books set in Africa. Only 256 pages and set mainly in the Catskills, this work is a departure, but it's still recognizably Rushian. Although Nina, one of two point-of-view characters, isn't invited, when her husband, Ned, flies off on hearing of the death of the leader of his middle-aged band of college friends, she hops the next plane-she's ovulating and time is of the essence. Good thing: the Rush responsible for Mating's distinctive female narrator is still a deft hand at creating smart, funny, complicated women. Ned is likable, too, and it's nice to see a happy marriage, a rare beast in fiction about the middle-aged. Unfortunately, the rest of Ned's band of reunited smarty pantses are pills of varying kinds, especially the recently deceased Douglas, whom Nina calls "the world's champion" of "walking out on foreign films he personally found highly overrated and taking his pack of stupid fool friends along with him." As events in Douglas's Catskills castle play out, with the friends coping with their middle-aged selves, the orchestration of Douglas's funeral, and the byzantine rollout of information about Douglas's life, marriage, and finances, even Nina can't save the book from growing talky and claustrophobic. 50,000 first printing. (Sept. 10) (c) Copyright PWxyz, LLC. All rights reserved.