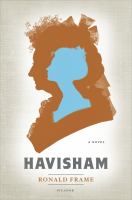 Library Journal
(c) Copyright Library Journals LLC, a wholly owned subsidiary of Media Source, Inc. No redistribution permitted.

In his latest novel, Frame (The Lantern Bearers) tackles the backstory of a literary legend: Charles Dickens's reclusive, vengeful Miss Havisham.The daughter of a prosperous widowed brewer, young Catherine Havisham leads a sheltered life. Her father's wealth and social aspirations isolate her from the other children in the village, leaving her unable to connect emotionally with the scant peers nearby. As a teenager Catherine is sent to live with the Chadwyck family to gain sophistication and an education. Though trained to quote poetry and participate in fashionable tableaus, she remains unworldly and ill-prepared for the romantic advances of the notorious Mr. Compeyson. Verdict Short scenes and shifting grammatical tenses give the novel a dreamlike quality and make Catherine's narration all the more unreliable. By examining her psychological development, this prequel to Great Expectations reveals a Catherine Havisham who has always been naive about human nature, almost right up to her very end. While Frame is prone to telling rather than showing the gradual construction of Catherine's delicate psyche, readers will be eager to discover what led to that fateful wedding day when she was abandoned at the altar. [See Prepub Alert, 6/24/13.]-Liza Oldham, Beverly, MA (c) Copyright 2013. Library Journals LLC, a wholly owned subsidiary of Media Source, Inc. No redistribution permitted.
---
Publishers Weekly
(c) Copyright PWxyz, LLC. All rights reserved

This stylish but dour "prelude" to Charles Dickens's classic Great Expectations comes from Glaswegian dramatist and author Frame (The Lantern Bearers). Catherine Havisham grows up in privilege and leisure at the imposing Satis House, courtesy of her affluent father, Joseph, who runs the most prosperous brewery in North Kent and ships her off to the aristocratic Chadwyck family to polish her social graces. Joseph, a widower, sparks his teenage daughter's resentment by disclosing he has remarried, though his second wife has since died, and Catherine also comes to loathe her ne'er-do-well half-brother, Arthur, after he begins living with them. She falls in love with the dashing racetrack gambler Charles Compeyson, and Joseph dies, leaving her the brewery. She becomes engaged to Charles, who wants to manage the Havisham brewery. However, Charles jilts his would-be bride, and Catherine's life descends into seclusion and a slow madness; she wears only her wedding dress while living in the decaying mansion. After adopting a young girl, Estella, Catherine ages into the cynical spinster depicted in Great Expectations. Frame offers a convincing recreation of the iconic Dickens character, but his tale suffers from centering on such an unappealing protagonist. Agent: Adrian Searle, Freight Books. (Nov.) (c) Copyright PWxyz, LLC. All rights reserved.