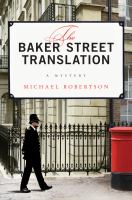 Library Journal
(c) Copyright 2010. Library Journals LLC, a wholly owned subsidiary of Media Source, Inc. No redistribution permitted.

Robertson's (The Baker Street Letters; The Baker Street Brothers) Reggie and Nigel Heath are back on the case! Reggie still has a law office on the second floor of 221 Baker Street and receives more letters to Sherlock Holmes than he does legal clients, but Nigel-brother, partner, and Holmes mail handler extraordinaire-has relocated to Los Angeles. When Robert Buxton, Reggie's longtime romantic rival for Laura Rankin, goes missing and two of the Holmes letters appear to supply motive, the brothers and Laura reunite for one more detective adventure. VERDICT The characters here are charming and the tone is humorous but the plot is so neat it lacks tension. Series newcomers might feel alienated by the frequent allusions to events in previous installments, but regular fans are sure to be pleased. Recommended for Robertson devotees and cozy mystery enthusiasts. [See Prepub Alert, 11/4/12.]-Liv Hanson, Chicago (c) Copyright 2013. Library Journals LLC, a wholly owned subsidiary of Media Source, Inc. No redistribution permitted.
---
Book list
From Booklist, Copyright © American Library Association. Used with permission.

This series has quite a premise: two barrister brothers rent office chambers at Dorset House, which makes up an entire block of Baker Street. The offices have location, location and one catch. The occupants are required to answer the letters that come in from all over the globe addressed to Baker Street's most famous resident, Sherlock Holmes. This codicil has already caused brothers Reggie and Nigel Heath no end of bother and thrown them in the middle of some intriguing mysteries. This time a persistent letter writer appears in person to question Reggie about nursery rhymes, rhymes that the reader knows from the first chapter (a total jaw-dropper) have to do with the location of explosives. Nigel is in L.A., and Reggie has to cope with a body in an alley who bears Reggie's business card and with the disappearance of a powerful publishing magnate, who happens to be the dead's man's rival for the affections of an actress who bears a striking resemblance to Holmes' amour, Irene Adler. Lots of Holmes references, both to the canon and to contemporary Holmes worship, plus lots of action and sparkling commentary equals great fun.--Fletcher, Connie Copyright 2010 Booklist
---
Publishers Weekly
(c) Copyright PWxyz, LLC. All rights reserved

Dexterous plotting lifts Robertson's third contemporary mystery centered on barrister Reggie Heath and his unusual mandate (after 2011's The Brothers of Baker Street). Under the terms of his office lease at 221B Baker Street, Reggie must ensure that someone responds to the many letters addressed to Sherlock Holmes, a task he's delegated to his brother Nigel in California. Once again, those missives trigger murder and mayhem, starting with kidnappers demanding delivery of a recent packet of letters to guarantee their captive's safe return. Meanwhile, an elderly Chinese man, Mr. Liu, seeks Holmes's help after he's denied payment for supposedly substandard work translating instructions for children's toys. After a comic exchange in which Mr. Liu has trouble understanding that Holmes is a fictional character, Reggie shows him the door. The next day, Mr. Liu's bloody body is found in a London alley. The author's creative use of the series concept augurs well for a long run. Agent: Kirby Kim, William Morris Endeavor. (Apr.) (c) Copyright PWxyz, LLC. All rights reserved.