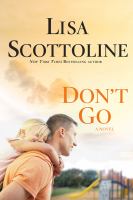 Publishers Weekly
(c) Copyright PWxyz, LLC. All rights reserved

This stand-alone from Scottoline (Come Home) effectively tugs at the emotions even as it verges on the melodramatic. Mike Scanlon, a reservist in the Army Medical Corps serving in Afghanistan, is allowed to return for one week to his suburban Philadelphia home to bury his wife, Chloe, who apparently died in an odd household accident. Overcome with grief, Mike realizes that he's a stranger to his seven-month-old daughter-and that Chloe was hiding a shocking secret. After a horrific war injury brings him home for good, Mike begins an out-of-control campaign to uncover Chloe's secret life, risking the loss of custody of his daughter, his health, and his own freedom. When Chloe's best friend is murdered, Mike suspects that his wife's death was no accident. Mike's Job-like trials push the boundaries of believability, but his journey to make peace with himself and be a father to his daughter will resonate with many readers. 300,000-copy first printing; author tour. Agent: Molly Friedrich, Friedrich Literary Agency. (Apr.) (c) Copyright PWxyz, LLC. All rights reserved.
---
Book list
From Booklist, Copyright © American Library Association. Used with permission.

Writing for the first time from a male perspective, Scottoline tackles a number of heavy issues in this story of a soldier returning from Afghanistan who is forced to deal with even more dire crises on the home front. Mike Scanlon finds his skills as a podiatric surgeon in increasing demand in Afghanistan as a result of the proliferation of IEDs and feels grateful to be able to help so many wounded soldiers. Then he learns his wife has died as the result of a freak household accident, leaving their newborn baby girl without a mother. Overwhelmed, he agrees to let his sister-in-law and her husband take over parenting duties, and re-ups for another tour. But a devastating injury sends him home once again, where he learns a shocking secret about his wife, one that presents the possibility that her death was not an accident. Although this novel feels, at times, overstuffed with issues and superficial in its treatment of PTSD, it will no doubt find a ready audience among Scottoline's enormous fan base. HIGH-DEMAND BACKSTORY: Best-selling Scottoline's hugely popular Rosato & Associates series as well as the success of her recent stand-alone titles guarantee an audience for this one.--Wilkinson, Joanne Copyright 2010 Booklist
---
Library Journal
(c) Copyright Library Journals LLC, a wholly owned subsidiary of Media Source, Inc. No redistribution permitted.

When he deployed to Afghanistan for the Army Medical Corps, Mike Scanlon left behind an enviable life, with a beautiful wife, an infant daughter, and a prospering practice as a podiatrist/orthopedic surgeon. Six months later, a freak accident changes Mike's world forever. As Mike struggles with the aftermath and searches for answers, he soon learns that his bad luck has only just begun. Despite an overwhelming share of tragedy, betrayal, and rejection, Mike maintains his unwavering love for his daughter, Emily. After a series of bad choices, Mike finds his life spiraling deeper into a hopeless quagmire of despair, eventually learning what it's like to lose everything. Verdict This is not your typical Scottoline novel.it is Scottoline on steroids. In her first book featuring a male protagonist, Scottoline spins a compelling drama that reads like the literary lovechild of Jodi Picoult and Nicholas Sparks. Readers will fall in love with this war vet father who fights seemingly insurmountable odds, and his powerfully addictive story will haunt them long after the final page.-Mary Todd Chesnut, Northern Kentucky Univ. Lib., Highland Heights (c) Copyright 2013. Library Journals LLC, a wholly owned subsidiary of Media Source, Inc. No redistribution permitted.