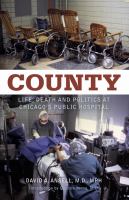 Publishers Weekly
(c) Copyright PWxyz, LLC. All rights reserved

Ansell's dramatic account of the 17 years he spent at Chicago's 160-year-old public Cook County Hospital (now John H. Stroger Jr. Hospital), rising from intern to chief of the General Internal Medicine and Primary Care Division, presents chilling proof of the indignities, interminable lines, inexcusable delays, inferior facilities, and incomplete care received by uninsured, mostly African-American patients. At County ("a petri dish for vermin"), where clerks ruled the mostly open wards and unsupervised interns learned by trial and error on a "battlefield of medicine," he and his colleagues fought against party politics for funds to keep County open and establish pioneering services (e.g., breast cancer screening, HIV/AIDs care). With the nation's focus on a national health-care policy providing quality medical services to citizens regardless of race, ethnicity, and income level, Ansell's expose will shock and motivate readers to take a stand on the issue. (July) (c) Copyright PWxyz, LLC. All rights reserved.
---
Book list
From Booklist, Copyright © American Library Association. Used with permission.

Ansell, a leading physician, ably describes what it was like to work at the nation's oldest and largest public hospital, Cook County Hospital in Chicago, in the late 1970s and 1980s. The bottom line: it was tough for the doctors and the indigent patients. Ansell notes that black-male life expectancy in Chicago then was less than 65 years lower than in Bangladesh. No sensationalist, Ansell notes that Cook County Hospital was the birthplace of America's first blood bank, but doesn't mention that it was also the model for the hospital in the NBC drama ER. As renowned physician and activist Quentin Young (a former Cook County doctor) writes in his introduction, despite the hospital's efforts to help the poor and the high quality of its care, Cook County Hospitali. a reflection on our nation's failure, unlike the other major Westernindustrialized nations, to make equal access to health care a right for all. Ultimately, Ansell uses his memoirlike account of life at Cook County Hospitalto argue for health-care reform so that all Americans can get equal care.--Springen, Kare. Copyright 2010 Booklist
---
Library Journal
(c) Copyright Library Journals LLC, a wholly owned subsidiary of Media Source, Inc. No redistribution permitted.

Ansell (chief medical officer, Rush Univ. Medical Ctr.) spent his medical residency and much of his early professional career at Cook County Hospital, historically Chicago's public hospital for low-income and uninsured patients. He weaves strands of memoir and policy analysis into a heartfelt account of the hospital's challenges, failures, and successes over three decades, from the Civil Rights Movement to the AIDS crisis, in the process educating and moving the reader to both anger and compassion. His gift for describing the connections between social forces and medical care, coupled with the vivid patient stories interspersed with trenchant critiques of the politics of health care, makes this work stand out. Verdict Ansell skillfully humanizes questions of health-care policy by describing real-life scenarios. Those who enjoyed such books as Richard Selzer's Letters to a Young Doctor will find this book an education for both the mind and the heart.-A.W. Klink, Duke Univ., NC (c) Copyright 2011. Library Journals LLC, a wholly owned subsidiary of Media Source, Inc. No redistribution permitted.