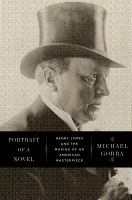 Library Journal
(c) Copyright Library Journals LLC, a wholly owned subsidiary of Media Source, Inc. No redistribution permitted.

Every portrait has a subject and a background. In this work, Gorra (English, Smith Coll.; After Empire: Scott, Naipaul, Rushdie) not only provides the expected creation story behind Henry James's The Portrait of a Lady but also scrutinizes James's life, the state of the novel in the late 19th century, and literary history as it influenced and was influenced by Portrait. This novel was a turning point for both James's career and the novel form itself, and Gorra incisively tracks its repercussions throughout fiction. In addition-like Michael Anesko in Monopolizing the Master-Gorra literally follows in James's footsteps by visiting the same places as the master and inserting himself as a character into the background of his portrait. VERDICT Gorra's detailed yet expansive examination of all factors relating to the creation and import of James's masterpiece makes this obligatory reading for James fans and scholars, though Gorra assumes a familiarity with other period writers that some James readers-such as the many college students assigned to read Portrait each year-may not have. Strongly recommended. [See Prepub Alert, 1/30/12.]-Megan Hodge, Chesterfield Cty. P.L., Richmond, VA (c) Copyright 2012. Library Journals LLC, a wholly owned subsidiary of Media Source, Inc. No redistribution permitted.
---
Publishers Weekly
(c) Copyright PWxyz, LLC. All rights reserved

In this innovative biography, written with flair and unostentatious erudition, Smith College English professor Gorra (The Bells in Their Silence) tells the life of Henry James through the story of the composition of his novel, The Portrait of a Lady. First published in 1881, the novel was a landmark work: James's scrupulous devotion to craft led him to dramatize the interior life of his heroine, Isabel Archer, in unprecedented fashion. Instead of transparent plots and clear moral conflicts, James opted for subtle clashes of personality and morally ambiguous stories in which action was character and character action. Analyzing James's letters, journals, stories, and travelogues, Gorra traces the author's life and literary milieu, alternating a reconstruction of his travels with extensive attention to the novel's composition and reception. The book reads like an exciting voyage of discovery, beginning with James revising his novel 20 years after it was written, and later depicting his blooming consciousness as an author torn between an American and a European identity. Gorra's highly engaging introduction to James will be most attractive to lovers of literature who want to learn more about the craft of novel writing and will likely send readers back to the shelves to discover James all over again. Agent: Steve Wassermann, Kneerim & Williams. (Aug.) (c) Copyright PWxyz, LLC. All rights reserved.