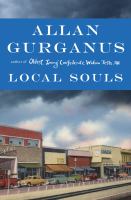 Publishers Weekly
(c) Copyright PWxyz, LLC. All rights reserved

Gurganus returns to Falls, N.C., the setting of his Oldest Living Confederate Widow Tells All, with this trio of linked novellas. "Fear Not" subjects a smalltown golden girl to horrific loss, an unplanned pregnancy, and a lifetime of wondering about the fate of her baby. The protagonist of "Saints Have Mothers" reluctantly sees her luminous, gifted daughter off on a global adventure, and has her worst fears realized. As she handles her own grief and the unfolding spectacle of Falls's collective mourning, Gurganus ratchets up the inner keening and deftly balances it with a certain sense of escalating absurdity. In "Decoy," a family history gets spun out as a backdrop to the retirement of the town's senior physician, a friend and confidant to the narrator, Bill Mabry, who still sees himself as a bit of an interloper in the country club set. "He knew so much. And about us! Our septic innards, our secret chin-lifts, our actual alcohol intake in liters-per-day." But as Dr. Roper leaves his medical role, Mabry's sense of loss gets sharper as the two men grow more remote from each other. In these layered, often funny narratives, close reading is rewarded as Gurganus exposes humanity as a strange species. Agent: Amanda Urban, ICM. (Sept.) (c) Copyright PWxyz, LLC. All rights reserved.
---
Book list
From Booklist, Copyright © American Library Association. Used with permission.

*Starred Review* Gurganus revisits the North Carolina town of Falls, where he situated his roundly applauded first novel, Oldest Living Confederate Widow Tells All (1989). His return to Falls is manifested in three novellas. Gurganus has never been a modest stylist. He favors, in concert with many of his fellow southerners, vivid language, provocative sentence structure, and metaphors that elevate the reader's consciousness. He also shares with his southern cohorts a delight in discovering the quotidian within lives led under extraordinary, even bizarre circumstances. In the disturbing Fear Not, the male narrator attends the high-school theatrical performance of his teenage godson, accompanied by his godson's mother. An interesting couple sits near them, and later, armed with the couple's names, the narrator embarks on learning their story, which involves the many-years-later seeking of a child given up at birth. Saints Have Mothers is the slyest of the trio, a sardonic look at celebrity as a girl from Falls becomes famous for having disappeared. Decoy, the longest of the three, chronicles the friendship of two men from different sides of town in a meandering tale that eventually sharpens into a moving treatment of social aspiration. HIGH-DEMAND BACKSTORY: Gurganus will be enjoying an extensive author tour and print and broadcast interviews, and the publisher will engage in a library marketing campaign.--Hooper, Brad Copyright 2010 Booklist
---
Library Journal
(c) Copyright Library Journals LLC, a wholly owned subsidiary of Media Source, Inc. No redistribution permitted.

In this first work in 12 years, Gurganus offers three luscious, perceptively written pieces, each as rich as any full-length novel and together exploring the depth of our connections. The teenage girl who loses both father and virginity and takes 20 years to come full circle to the family tie that matters ("Fear Not"); the mother who's sacrificed all for a brilliant, do-gooding daughter worshipped in town even before she goes missing on a trip to Africa ("Saints Have Mothers"); and the not-quite-accepted-as-townie insurance man in an unequal relationship with the revered town doctor ("Decoy")-all are here in Falls, NC. Yes, Falls, the setting of Gurganus's immortal Oldest Living Confederate Widow Tells All. In all three novellas, there's a pervasive sense of the power of community expectations and the question of whether we can challenge fate. "Fear Not" protagonist Susan escapes hers, while Bill in "Decoys," who says he was "either meant to be or love" Doc Roper, just seems stuck. VERDICT These pieces are so fresh and real that the reader has the sense of walking through a dissolving plate-glass window straight into the lives of the characters. Highly recommended. [See Prepub Alert, 3/25/13.]--Barbara -Hoffert, Library Journal (c) Copyright 2013. Library Journals LLC, a wholly owned subsidiary of Media Source, Inc. No redistribution permitted.