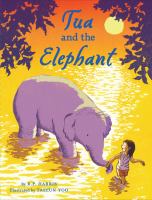 Publishers Weekly
(c) Copyright PWxyz, LLC. All rights reserved

Harris's debut, inspired by a trip to the Elephant Nature Park in Thailand, follows nine-year-old Tua and her relationship with an abused elephant, Pohn-Pohn. Tua, whose mother is a hardworking waitress, lives an independent life in Chiang Mai, near a popular night market where she finds-and falls in love with-Pohn-Pohn. The elephant is under the charge of two thieving scoundrels and wordlessly begs Tua to help her escape. As quick-witted and adventurous as she is warmhearted, Tua undergoes hair-raising escapades to keep Pohn-Pohn out of the villains' grasp and find her a sanctuary. Engagingly filled with Thai vocabulary, food, and customs, and peopled by helpful family members, chums, and kind monks, the book maintains a quick, suspenseful pace. The final chapters wrap up the story a little too neatly, however, and border on an infomercial about the sanctuary for abused Asian elephants. Nonetheless, Harris's story, enlivened by Yoo's gently evocative woodcut illustrations in violet and mustard, avoids overt anthropomorphism of Pohn-Pohn while maintaining the sweet connection between elephant and girl. Ages 8-12. Illustrator's agent: Holly McGhee, Pippin Properties. (May) (c) Copyright PWxyz, LLC. All rights reserved.
---
Book list
From Booklist, Copyright © American Library Association. Used with permission.

In this modern Thai adventure story, 10-year-old Tua meets an elephant as she wanders her neighborhood night market. She conspires to rescue the animal from its abusive mahouts, but setting an elephant free is simple compared with finding a safe place to hide it: Kitchens with elephants in them are overcrowded rooms. On the advice of her aunt Orchid, Tua and Pohn-Pohn the elephant attempt to reach an elephant sanctuary and presumed safety. They encounter many adventures and new friends on their journey, always with the elephant's former owners in hot pursuit. The mahouts are drawn broadly, providing comic relief and keeping the tone light. Vivid descriptions, a heavy sprinkling of Thai words in the dialogue, and Yoo's evocative full-page art, keep the setting firmly in Thailand without feeling overtly educational or heavy-handed. Tua's generous nature and impetuous actions make her a spunky, endearing heroine. Hand this to fans of Kate DiCamillo, those looking for a glimpse of life in modern Asia, or anyone who enjoys a rollicking animal adventure story.--Harold, Suzanne Copyright 2010 Booklist
---
School Library Journal
(c) Copyright Library Journals LLC, a wholly owned subsidiary of Media Source, Inc. No redistribution permitted.

Gr 3-6-Children will be smitten with Harris's endearing story about a tender friendship between a girl and the elephant whose life she is trying to save. Nine-year-old Tua (Peanut) lives with her mother in Chiang Mai, Thailand, a lively place where everyone seems to know and watch out for one another. One day at the bustling night market, she encounters an elephant being forcefully led by two sleazy con men who are masquerading as mahouts. Tua and the elephant connect and quickly forge a strong emotional bond. Determined to rescue her new friend from a horrific situation, she deftly sneaks her away from her captors. Navigating the crowded streets is no easy feat with an elephant in tow, but they eventually end up at the house of Tua's charismatic Auntie Orchid. Though sympathetic, she is unable to harbor the fugitive pachyderm and directs her niece to a Buddhist temple that has walls tall enough to hide the large animal. At the temple, Tua and the newly named Pohn-Pohn (Double-Happiness) are told that the best place for an elephant is a sanctuary run by a compassionate animal lover. Tua endeavors to get Pohn-Pohn to safety while avoiding the criminal mahouts, who have been pursuing them all along. Yoo's vibrant full-page illustrations, rendered in charcoal and linoleum-block printing, perfectly complement and elevate Harris's remarkable tale. A charming story sure to capture the hearts of young readers.-Lalitha Nataraj, Escondido Public Library, CA (c) Copyright 2012. Library Journals LLC, a wholly owned subsidiary of Media Source, Inc. No redistribution permitted.