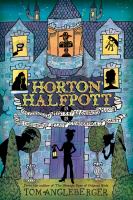 School Library Journal
(c) Copyright Library Journals LLC, a wholly owned subsidiary of Media Source, Inc. No redistribution permitted.

Gr 4-7-Angleberger claims this tale of greed, theft, and corsets was inspired by Charles Dickens, although readers may equally suspect Roald Dahl. Downtrodden kitchen boy Horton Halfpott works for Smugwick Manor's ironfisted mistress, Lady Luggertuck. One morning she loosens her corset and the ensuing circulation causes her to sponsor a ball for her lovelorn nephew. The ball begins a chain of events leading to the theft of the Luggertuck Lump diamond, romance for Horton, and, best of all, "Shipless Piracy." While Horton's heart flutters for neighbor Celia, three enterprising stable boys mount surveillance on the manor to discover the thief. Much like Dickens or Dahl, an opinionated narrator with a strong sense of the ridiculous directs this story. His arch, mock-fanciful tone shows the absurd pretensions and underlying nastiness of Lady Luggertuck and her 16-year-old son. The narrator often uses contrasts to emphasize the differences between the mistress and her servants: "stately bedchambers" for her and "stiflingly hot attics" for them. The rich imagery adds humor and pathos to Horton's drudgery even as theft and piracy liven up the story. While not every mystery is solved (the stable boys' parentage remains a veiled secret), Horton's own reversal of fortune will provide readers the happy ending they expect. Pen-and-ink caricatures introduce each chapter and its characters. Well written, satirical, and satisfyingly silly.-Caitlin Augusta, Stratford Library Association, CT (c) Copyright 2011. Library Journals LLC, a wholly owned subsidiary of Media Source, Inc. No redistribution permitted.
---
Publishers Weekly
(c) Copyright PWxyz, LLC. All rights reserved

Angleberger's rambling title sets readers up for this oddly entertaining tale of a downtrodden, mistreated kitchen boy who, through a series of haphazard events, becomes an unlikely hero. Horton Halfpott is a hardworking but oft-beaten servant at Smugwick Manor, home to the wealthy Luggertucks, including the nasty and demanding M'Lady Luggertuck and her cruel son, Luther. Comically ruthless and greedy, these two antagonists make their multitude of servants outright miserable. When a family treasure goes missing, a bumbling detective is brought it to find the culprit. Readers will enjoy Angleberger's (The Strange Case of Origami Yoda) penchant for the absurd as well as his many droll asides: "Fear not, Reader, we will not dwell on these romantic inklings, not if you don't wish to," he writes after "the most beautiful girl [Horton] had ever seen" smiles at him. "But it really was a nice smile." The ending satisfies, and with Angleberger's many eclectic characters, his wild-and-witty storytelling, and a lighthearted but perplexing mystery-involving a "lump" of diamonds, a couple of wigs, and a bust of Napoleon-readers are in for a treat. Ages 8-12. (May) (c) Copyright PWxyz, LLC. All rights reserved.
---
Book list
From Booklist, Copyright © American Library Association. Used with permission.

Horton Halfpott, the lowly (but likable) scullery boy at Smugwick Manor, falls in love with Celia Sylvan-Smythe, the young heiress, who has attracted the unwanted attention of his employers' high-born (but despicable) son Luther Luggertuck. The plot thickens when the Luggertuck Lump ( possibly the world's largest diamond and certainly the ugliest ) is stolen and a suspicious band of shipless pirates turns up in the area. Billed as . Victorian spoof. the amusing story is related by a narrator who occasionally stops the action and addresses readers directly ( Reader, do not panic ). Each chapter opens with an amusing drawing of one or more characters along with a heading, such a. In Which Miss Neversly Is Disobeyed and Dawdling Occurs . . . . and each unfolds with droll humor as well as action. From the author of The Strange Case of Origami Yoda (2010), here's an amusing romp of a mystery that balances skulduggery with just rewards.--Phelan, Caroly. Copyright 2010 Booklist