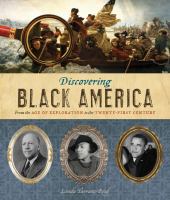 School Library Journal
(c) Copyright Library Journals LLC, a wholly owned subsidiary of Media Source, Inc. No redistribution permitted.

Gr 6 Up-While not intended as "an exhaustive review of African American history," this attractive volume is an epic work. Starting with the first Africans to come to the New World, Tarrant-Reid follows the history up to the election of Barack Obama. Highlights include profiles of early black explorers, a look at the roots of slavery, a fascinating account of the philosophical differences between Booker T. Washington and W.E.B. Du Bois, and the little-known correspondences between Martin Luther King, Jr., and Malcolm X. Absolutely gorgeous in design, with a harmonious marriage of text and colorful archival images, this is the kind of book that invites browsing, and its extensive reach will make this a go-to title for report writers. The author stays remarkably unbiased throughout; in fact, it is this apparent strength that, at times, becomes an issue. Great nonfiction creates a relationship between young readers and subjects; a title that mines similar territory, Kadir Nelson's award-winning Heart and Soul (HarperCollins, 2011), brings African American history to life through the colorful narrative of a grandmotherlike Everywoman. Tarrant-Reid's impartial tone, on the other hand, at times gives way to long sections of relatively lifeless prose. The author is an authority on African American culture, having previously written several books on the subject, but this particular title, while strong in several areas, is not without its flaws.-Sam Bloom, Groesbeck Branch Library, Cincinnati, OH (c) Copyright 2012. Library Journals LLC, a wholly owned subsidiary of Media Source, Inc. No redistribution permitted.
---
Publishers Weekly
(c) Copyright PWxyz, LLC. All rights reserved

Journalist Tarrant-Reid offers a comprehensive and well-designed history of black Americans, beginning with an examination of early black explorers and the roots of slavery, and concluding with the inauguration of Barack Obama. Throughout, Tarrant- Reid maintains an engagingly personal voice, profiling such prominent individuals as Phillis Wheatley, Booker T. Washington, and Malcolm X, as well as noting those swept up in the wave of history (a section on the American Revolution devotes space to blacks who fought on both sides, and a two-page spread gathers black inventors). Chapters examine the Civil War, Reconstruction, and Jim Crow eras, followed by a focus on 20th-century social, political, and artistic movements. Reproductions of historical documents, photographs, and artwork provide a sense of immediacy to this immersive tapestry, which reaches well beyond the milestones typically outlined in history books. With expressive details, such as firsthand accounts from the 1961 Mississippi Freedom Riders, and pop culture references (including the lyrics to Marvin Gaye's 1971 song "What's Going On"), it's a book that will inspire readers to think more broadly and deeply about the African-American experience. Ages 10-up. (Sept.) (c) Copyright PWxyz, LLC. All rights reserved.
---
Book list
From Booklist, Copyright © American Library Association. Used with permission.

This handsome historical overview begins with the first African explorers and seamen arriving in the New World in the fifteenth century, and it ends with the presidential election of Barack Obama. In between, focused chapters discuss black history in detail, from slavery and the Underground Railroad to how African Americans have advanced through the decades to today. Despite the wide time span covered in this single volume, there is no slick simplification of facts, although there could be more about the daily struggle of ordinary people now. Many teens will be familiar with some of the coverage, such as the discussions of Jim Crow and the Harlem Renaissance, as well as biographies of famous leaders, from Frederick Douglass to Langston Hughes, Rosa Parks, Jacob Lawrence, Angela Davis, and Oprah. The spacious book design will draw readers with plentiful, well-placed paintings, photos, and documents on every spread. The extensive back matter includes meticulous footnotes and a bibliography of recommended books and websites for all those who will be moved to find out more. An excellent title for classroom support.--Rochman, Hazel Copyright 2010 Booklist