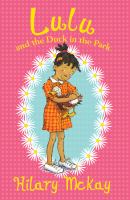 School Library Journal
(c) Copyright Library Journals LLC, a wholly owned subsidiary of Media Source, Inc. No redistribution permitted.

Gr 1-3-In this entertaining chapter book, readers are introduced to irrepressible Lulu, "famous for her love of animals." She loves her old dog, Sam, as much as the spiders in her house. She loves the snails in her garden as much as her hamster and guinea pig. Lulu's mother is famous for saying, "The more the merrier. As long as Lulu cleans up after them." However, her teacher is almost as famous for not liking animals. When Lulu's dog follows her to school, Mrs. Holiday declares that if any child brings an animal into the room as a visitor, the class guinea pig will have to go live elsewhere. Then, on a trip to the park, after a wild rumpus in which two overly enthusiastic dogs trample all of a mother duck's spring nests, Lulu notices an intact egg. She gently places it in her pocket on the way back to the classroom. Her best friend and cousin, Mellie, is sworn to secrecy and becomes an accomplice as they try to hide and protect it. McKay's pacing is spot-on, and the story moves briskly. Lamont's black-and-white illustrations capture the sparkle in Lulu's eyes and the warmth and fuzziness of a newly hatched duckling. The satisfying ending will have children awaiting the next installment in what is likely to become a hit series for fans of other plucky characters like Horrible Harry, Stink, and Junie B. Jones.-Lisa Kropp, Suffolk Cooperative Library System, Bellport, NY (c) Copyright 2012. Library Journals LLC, a wholly owned subsidiary of Media Source, Inc. No redistribution permitted.
---
Book list
From Booklist, Copyright © American Library Association. Used with permission.

*Starred Review* Lulu, who loves every sort of animal, tries to convince her teacher that their class guinea pig needs a companion. Unfortunately, her methods lead Mrs. Holiday to announce that if anyone brings another animal to school, she'll trade their class pet for a stick insect. When their weekly visit to a nearby park ends in disaster (large dogs running wild and destroying ducks' nests and eggs), Lulu catches the one remaining egg as it rolls downhill, and she pockets it. All through the school day, she protects the egg and keeps it warm, revealing her secret only to her best friend (and cousin), Mellie. When the egg begins to hatch, though, Lulu finds a powerful, if unexpected, ally. Best known for the Exiles trilogy and her novels about the Casson family, McKay shows a rare ability to capture a younger audience in this involving chapter book for transitional readers. The well-structured, third-person narrative builds dramatic tension; provides comic relief of the most believable sort; and shows plenty of heart. Depicting Lulu and Mellie as biracial children in a multicultural classroom, Lamont's appealing black-and-gray drawings reveal the characters with verve and finesse. The first in a new series, this memorable story is just right for children moving to chapter books.--Phelan, Carolyn Copyright 2010 Booklist
---
Publishers Weekly
(c) Copyright PWxyz, LLC. All rights reserved

"Lulu was famous for animals," opens this sparkling series launch, first published in the U.K., about Lulu, an irrepressible girl with a penchant for acquiring pets. And, McKay explains in her characteristically understated and cheerful narrative, "it was very lucky for Lulu that her mother was famous for saying, 'The more, the merrier.' " Lulu's adventures begin when her dog follows her to school (thanks to the trail of treats she drops en route), agitating the class guinea pig and further irritating her gruff teacher. The crux of the novel is Lulu's rescue of a duck egg she finds after dogs storm the park during a class outing. She sneaks the egg into school and, in one of many droll and endearing scenes, quacks to the egg so "it doesn't get lonely." Though aimed at a younger audience than McKay's Exiles novels and series about the Casson family, this offering has similarly abundant humor and heart. Lamont's (Animal Rescue Team) robust cartoon spot art offers lively, loose portraits of the story's human and animal characters alike. Ages 7-9. (Sept.) (c) Copyright PWxyz, LLC. All rights reserved.