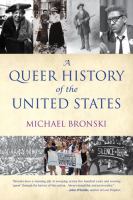 Library Journal
(c) Copyright Library Journals LLC, a wholly owned subsidiary of Media Source, Inc. No redistribution permitted.

This panoramic survey is less a history of homosexuality in the United States than a reexamination of American mores through a queer lens, a thematic analysis of the ways in which same-sex desire has reflected and shaped American morality over the past 500 years. Calling to mind Howard Zinn's A People's History of the United States, this is the first title in Beacon's new "ReVisioning American History" series. Bronski (women's and gender studies and Jewish studies, Dartmouth Coll.), who has been writing on LGBT topics for several decades, emphasizes the recurring historical tension between integrationist and anarchist paradigms of homosexuality, and he explores how various political and social movements-including transcendentalism, feminism, progressivism, and the labor and Civil Rights movements-have intersected with and diverged from the struggle for sexual freedom. The epilog covers the past two decades, which Bronski deems too recent to be treated as history. VERDICT Bronski does an impressive job weaving together existing LGBT scholarship with his own theoretical analysis. Recommended for anyone interested in gender, sexuality, or American history and culture.-David Gibbs, Georgetown Univ. Lib., Washington, DC (c) Copyright 2011. Library Journals LLC, a wholly owned subsidiary of Media Source, Inc. No redistribution permitted.
---
Publishers Weekly
(c) Copyright PWxyz, LLC. All rights reserved

This enthralling history spans 500 years of evolving perspectives on sexuality in America-from the European settlers' violent responses to the more fluid gender roles of Native Americans to how the birth control pill, which separated sex from reproduction, contributed to the cause of LGBT liberation. Bronski (Pulp Friction), senior lecturer in women's and gender studies at Dartmouth, argues that a queer history of the U.S. is inextricably tied to the more well-known accounts of migrations, wars (his book describes hundreds of Civil War soldiers who were women disguised as men), economics, and philosophical evolutions. Attitudes to sexuality in the U.S. embody a characteristically American "tension between securing personal freedom for individuals" and "desire to protect people." In chapters that deftly balance narrative and history, personal stories and trivia gems (Dr. John Harvey Kellogg promoted Corn Flakes as a diet capable of curbing "the pernicious habit of onanism"), he chronicles not only the public and private lives of gays in America but the changing attitudes toward sex and marriage in the mainstream population. A savvy political, legal, literary (and even fashion) history, Bronski's narrative is as intellectually rigorous as it is entertaining. (May) (c) Copyright PWxyz, LLC. All rights reserved.
---
Choice
Copyright American Library Association, used with permission.

Gender studies professor Bronski (Dartmouth) takes an interesting approach to solving the problem of integrating gay history into a mainstream survey. Deliberately avoiding the "add a gay person and stir" approach, the author instead focuses on the many ways in which gay individuals, and the culture they created for themselves, have influenced larger US social trends. The result is a highly readable monograph. Bronski begins with the first European explorers and their contact with those Native American tribes for whom cross-dressing was an acceptable practice. He demonstrates that the colonizers saw this social peculiarity as an indication of the Natives' barbarism. He moves on through the intense single-sex friendships of the Colonial era and the 19th century and includes a thorough discussion of the pitfalls of trying to define sexuality in an era that did not understand the term as such. The author then considers the impact of 20th-century industrialization and urbanization on the evolution of a newly self-aware gay community that was both decimated and politically charged by the AIDS crisis of the 1980s. Bronski's book provides an excellent overview for readers new to the field of gay history. Summing Up: Essential. All levels/libraries. R. A. Standish San Joaquin Delta College