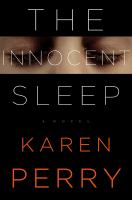 Publishers Weekly
(c) Copyright PWxyz, LLC. All rights reserved

In the prologue-set in 2005 in Tangier-of this smart missing-child thriller from Perry (the joint pseudonym of Paul Perry and Karen Gillece), struggling Irish artist Harry Lonergan slips out of the house on his wife's birthday to pick up a present for her, leaving their sleeping three-year-old son, Dillon, behind. Before Harry can return home, an earthquake rocks Tangier, and Dillon goes missing and is presumed dead amid the rubble. Flash forward to 2010 Dublin, where Harry catches a glimpse of an older Dillon among a crowd of antigovernment demonstrators. Harry decides to search for Dillon without informing his wife, Robin, who, meanwhile, discovers she's pregnant. Harry continues hunting for Dillon, while Robin worries Harry may be suffering a nervous collapse as a result of his obsessed quest. In the end, the consequences of the Lonergans' carefree years spent living as expatriates in Tangier come back to haunt them. Deceit, infidelity, and surprising twists make this a satisfying debut. Agent: Kari Stuart, ICM. (Feb.) (c) Copyright PWxyz, LLC. All rights reserved.
---
Book list
From Booklist, Copyright © American Library Association. Used with permission.

*Starred Review* Five years ago in Tangiers, Harry and Robin's son was killed when an earthquake demolished the building in which he lay sleeping. Harry gave three-year-old Dillon sleeping medication so that the couple could have a romantic celebration of Robin's birthday, and the earthquake occurred while he was running down the street to retrieve her gift. Now, they've moved to Dublin, hoping a fresh start will salvage their relationship and relieve Harry's immense burden of guilt. Instead, the wounds are freshly opened when Harry becomes convinced he's spotted Dillon in Dublin, and he begins chasing leads to find him and determine the identity of the woman leading him by the hand. Is it possible that Dillon was kidnapped instead of killed, or is Harry suffering from grief-induced delusions? Karen Perry, pseudonym of Paul Perry and Karen Gillece, pulls the story deliciously taut by alternating perspectives that contrast Harry's increasing obsession with Robin's deteriorating trust. And the haunting, sometimes vague flashbacks to Tangiers create a sense of alluring, exotic danger. Readers drawn to the intense emotion and zero-sum conflict of Andre Dubus III's House of Sand and Fog (1999) will love this one, as will those captivated by the missing-person intrigues in Laura Lippman's What the Dead Know (2007) and Lisa Scottoline's Look Again (2009).--Tran, Christine Copyright 2010 Booklist
---
Library Journal
(c) Copyright Library Journals LLC, a wholly owned subsidiary of Media Source, Inc. No redistribution permitted.

This debut literary thriller opens with a terrible tragedy: a sudden earthquake in the Moroccan city of Tangiers kills Harry and Robin's only child, a young son, Dillon. Five years later, the couple have long since relocated to Ireland and are slowly becoming hopeful for their future. All seems well until Harry sees their son in the streets of Dublin-and with this glimpse, long-held secrets threaten to destroy Harry and Robin's new life. The novel, with alternating narratives from each spouse, investigates whether Dillon is truly alive, and if so, how. The breakneck pace of the narrative, which is spiced with the ingredients of deceit, infidelity, and secret lives, forms a gripping, well-written read. Perry is a pseudonym for the Dublin-based authors Paul Perry and Karen Gillece; this is the duo's debut project. Outside of their literary partnership, both authors have written several solo novels to much acclaim. VERDICT This novel, with a premise that taps into the fears of every parent, is an entertaining thriller that fans of Tana French and Gillian Flynn will enjoy. [See Prepub Alert, 8/9/13.]-Rebecca M. Marrall, Western Washington Univ. Libs., Bellingham (c) Copyright 2014. Library Journals LLC, a wholly owned subsidiary of Media Source, Inc. No redistribution permitted.