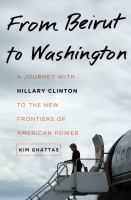 Publishers Weekly
(c) Copyright PWxyz, LLC. All rights reserved

Secretary of State Hillary Clinton becomes the face of a superpower in this captivating profile. Ghattas, State Department correspondent for the BBC, jetted around the globe with Clinton as she refereed Israeli-Palestinian quarrels, wrangled with Chinese officialdom, smoothed ruffled diplomatic feathers after Wikileaks publicized catty American cables, and strategized over the Arab Spring upheavals. In Ghattas's vivid portrait, Clinton emerges as a charismatic, tireless woman, magnetic during her trademark town hall meetings with ordinary citizens (cries of "We love you, Hillary" trail her everywhere), candid and forthright in private conversation, but always agonizing over anodyne public statements that will be obsessively parsed for policy shifts. But as the author floats along in Clinton's exciting, exhausting bubble of pre-eminence, she also examines America's ongoing centrality in world affairs: while they resent American power, in every country people she encounters expect the United States to magically settle their crises and conflicts. Attuned to that mindset since her childhood in war-torn Lebanon, Ghattas receives in her travels with Clinton an eye-opening education in the complexity and limitations of U.S. foreign policy making. Her perceptive reportage on Clinton's personal leadership grounds a shrewd analysis of America's role as the still-indispensable nation. 8-page b&w photo insert. Agent: Dorian Karchmar, William Morris Endeavor. (Mar. 5) (c) Copyright PWxyz, LLC. All rights reserved.
---
Choice
Copyright American Library Association, used with permission.

Ghattas, a Lebanese-born BBC correspondent, traveled with Secretary of State Hillary Clinton for four years and for much of Hillary's record-breaking one million miles. Her portrait of Clinton as individual, diplomat, personality, and, in the author's words, "the face--and the heart--of American power" is a unique kind of study. It is part historical narrative, personal memoir, insider account of day-to-day operations and travel logistics, gossip, commentary on the processes and conduct of American policy, critique, and praise for Hillary that, at points, approaches hagiography. The glimpses into world leaders, recent crisis management, and the dynamics among US policy makers are fascinating. Into this story Ghattas weaves her personal saga of her childhood during the Lebanese Civil War in the 1970s and how it affected her perspectives on the later Syrian Civil War. Critics will consider the volume an Obama/Clinton apologia, and such early journalist accounts seldom stand the test of time against later in-depth scholarship. But the book is a good first-blush introduction to the role of Hillary Clinton in the diplomacy of the first Obama administration. Whatever readers' politics, the volume is an engaging and enjoyable read. Summing Up: Recommended. General readers through research faculty. J. P. Dunn Converse College
---
Library Journal
(c) Copyright Library Journals LLC, a wholly owned subsidiary of Media Source, Inc. No redistribution permitted.

The Obama administration has made much of its secretary of state's indefatigable travel; Ghattas, a correspondent for the BBC at the U.S. State Department, provides an accessible and detailed account of this aspect of Clinton's work, covering all major areas of the world through early 2012. Ghattas engagingly describes the logistical and personal demands on Clinton, but gives much less attention to the larger political context of Clinton's work. Certain episodes, such as the difficulty of coordinating Washington's leadership on Iranian sanctions and the 2010 "WikiLeaks" scandal, are highly informative, showing, in the latter case, Clinton's devotion to undoing the damage from the leaked documents. Ghettas brings her Lebanese origins to bear in her personal quest to determine American involvement in Syria's 1990 invasion of her country, an interest satisfied through the same energy she brings to accompanying her subject to many countries. VERDICT This is not a serious biography or an inside story about the Obama administration, but it will find an audience among the many readers who find Hillary Clinton a fascinating subject.-Zachary Irwin, Behrend Coll., Penn State Univ., Erie (c) Copyright 2013. Library Journals LLC, a wholly owned subsidiary of Media Source, Inc. No redistribution permitted.
---
Book list
From Booklist, Copyright © American Library Association. Used with permission.

*Starred Review* Ghattas, half Dutch and half Lebanese, grew up in Beirut witnessing firsthand the consequences of foreign policy decisions made in Washington. She came to the U.S. in 2008 as a BBC reporter covering the State Department and got to see the other side of American foreign decision making. She brings those unique perspectives to this engaging look at U.S. diplomacy under Hillary Clinton, former First Lady and presidential candidate. Drawing on interviews with Clinton, her staff, and major figures in the U.S. and around the world, Ghattas presents a close-up look at the touchiest of diplomatic issues in the first Obama administration, from the Arab Spring uprisings to WikiLeaks. She offers a glimpse of the personal side of Clinton at a surprise town-hall meeting in Baghdad, talking with the Saudi king in his personal and well-appointed bus, cajoling and charming but remaining firm on U.S. positions. Ghattas also presents a rich portrait of the different perspectives on U.S. power and influence around the world as well as her own personal experiences and ambivalence about the U.S. as she learns the realities of U.S. power: there is no magic wand, and solutions aren't obvious or automatic.--Bush, Vanessa Copyright 2010 Booklist