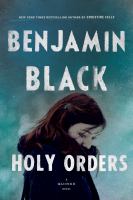 Publishers Weekly
(c) Copyright PWxyz, LLC. All rights reserved

"Love was love, and always demanded more than a lover was capable of giving." The profound melancholy of that sentiment permeates Black's sixth Quirke novel set in 1950s Ireland (after 2012's Vengeance). The discovery of the badly beaten body of journalist Jimmy Minor, a friend of Quirke's daughter Phoebe, in a Dublin canal presents the pathologist with a highly personal case. Quirke, for whom happiness is one of "those words. the meaning of which he could never quite grasp," and his friend on the force, Inspector Hackett, follow a trail that brings them into conflict with the Catholic Church. The solid detecting, as the doctor and the detective try to figure out what story Minor was pursuing that may have led to his death, will keep readers engaged, but the book's power stems from its multifaceted lead. Black is the pen name for Man Booker Prize-winner John Banville. Agent: Ed Victor, Ed Victor Literary Agency (U.K.). (Aug.) (c) Copyright PWxyz, LLC. All rights reserved.
---
Book list
From Booklist, Copyright © American Library Association. Used with permission.

Postwar, corruption-laced Dublin is as much a character in Black's strikingly detailed, psychologically intricate crime series as his hard-drinking, brooding hero, Quirke, a pathologist who, as his equally ruminative daughter, Phoebe, puts it, can't resist playing at detective. The sixth installment begins with the gruesome murder of Phoebe's friend, pint-sized reporter Jimmy Minor, a key character in the earlier books. The ensuing investigation is as slow and sticky as molasses as Quirke and shrewd if grubby Inspector Hackett visit an imperious priest at the spooky Trinity Manor and an almost mythological tinker encampment. Quirke is in a bad way. Not only is he wracked by guilt over his inability to express love, his grip on reality is slipping under an onslaught of disorienting hallucinations and anguished memories of his boyhood abuse by priests. Phoebe, meanwhile, comes under the spell of Jimmy's alluring and alarming twin, Sally. Though most intrigued with the mysteries of the mind, Black succeeds brilliantly in delivering piquant social satire and chilling revelations of the church's unholy power over the justice system and the press.--Seaman, Donna Copyright 2010 Booklist
---
Library Journal
(c) Copyright Library Journals LLC, a wholly owned subsidiary of Media Source, Inc. No redistribution permitted.

A mangled body is found in a Dublin canal, with the remains quickly identified as those of an impetuous muckraking journalist. Jimmy Minor was a quiet, unassuming young man with few friends, his only potential enemies being the subjects of his newspaper exposes. Forensics pathologist-cum-detective Quirke and his sometime partner Inspector Hackett unite in an effort to uncover what Minor could possibly have been investigating that led to his early death. Unfortunately for Quirke, Minor was an old friend of his daughter Phoebe, forcing Quirke to both console her and use her for her insight. Even more unfortunate is his growing realization that the Catholic Church and some local "tinkers"-travelling people known also as Gypsies-both likely had a hand in Minor's demise. This seventh mystery written by John Banville under the pseudonym Black returns to the shambling life of the depressive and introspective Dr. Quirke. Though the chapters are narrated by a number of central characters-including Phoebe and Inspector Hackett-the tone of the tale is primarily set through its identification with Quirke, lending it an increasingly despondent feeling as it follows him through panic attacks, drunken bouts, and an insurgent emotional desperation. At story's end the discovery of Jimmy's killer feels inconsequential in the face of Quirke's apparent emotional breakdown. VERDICT Overall, Black's latest Quirke mystery (Christine Falls; A Death in Summer; Vengeance) is an exhausting and airless read. [See Prepub Alert, 2/25/13; library marketing.]-Jennifer Rogers, J. Sargeant Reynolds Community Coll. Lib., Richmond (c) Copyright 2013. Library Journals LLC, a wholly owned subsidiary of Media Source, Inc. No redistribution permitted.