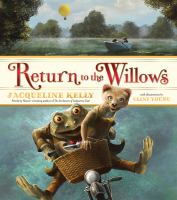 Publishers Weekly
(c) Copyright PWxyz, LLC. All rights reserved

"It is a truth universally acknowledged that a toad in possession of a fortune must be in want of adventure," writes Kelly (The Evolution of Calpurnia Tate) in this sequel to Kenneth Grahame's 1908 classic, The Wind in the Willows, in which she supplies a boatload of mayhem and mishaps for Mr. Toad and company. An "Animal of Action," Toad has tired of messing about in boats and stealing motorcars. He sets his sights skyward with predictably disastrous results: a crash, a head injury, and a daring expedition to recover the lost aircraft culminate in a battle waged with birthday cake and baguettes (in place of swords). While Kelly's story is more plot-driven than Grahame's, she evokes an old-fashioned feel by retaining the original's Britishisms, translated for American readers with explanatory footnotes (though most children could probably figure out that a jam roly-poly is a jelly roll without help). Newcomer Young's artwork (not seen in color by PW) captures both the comedic aspects of the anthropomorphized cast and the serenity of the natural world in which they wreak their havoc. It's an affectionate follow-up to a classic of children's literature, one that succeeds on its own as a humorous and adventurous romp along the riverbank and into the Wild Wood. Ages 8-up. Agent: Marcy Posner, Folio Literary Management. Illustrator's agent: Erin Murphy, Erin Murphy Literary Agency. (Oct.) (c) Copyright PWxyz, LLC. All rights reserved.
---
School Library Journal
(c) Copyright Library Journals LLC, a wholly owned subsidiary of Media Source, Inc. No redistribution permitted.

Gr 4-6-Toad's brainy nephew, Humphrey, has been kidnapped by Chief Weasel and Under-Stoat in order to repair the hot-air balloon that Toad lost in an unfortunate accident with a church steeple while Mole was a passenger. Yes, it's the characters from Kenneth Grahame's The Wind in the Willows brought back to life. An old-fashioned yarn, complete with Young's superb full-color paintings throughout, recounts the exploits of Mole, Rat, Badger, and Toad as they attempt to rescue Humphrey from the weasels and stoats in the dreaded Wild Wood. Hapless Toad becomes temporarily brilliant from a bump on the head and attempts to solve all the Great Big Questions such as: "How much wood could a woodchuck chuck if a woodchuck could chuck wood?" Rat finds a love interest and Mole fears his comfortable days of floating on the river with Rat will come to an end. The title page describes the book as being a "respectful sequel. containing helpful commentary, explanatory footnotes, and translation from the English language into American." These often-amusing footnotes, commentary, and translations, along with the use of richly descriptive language, produce a deeply satisfying story that would make a great read-aloud choice for a motorcar full of happy passengers. Engaging from beginning to end, this sequel is superb.-Kathy Kirchoefer, Henderson County Public Library, NC (c) Copyright 2012. Library Journals LLC, a wholly owned subsidiary of Media Source, Inc. No redistribution permitted.
---
Book list
From Booklist, Copyright © American Library Association. Used with permission.

In an age of sequels, it should come as no surprise that Newbery Honor-winning author Kelly has written a sequel to Kenneth Grahame's immortal The Wind in the Willows. Nor, given the stature of the original, should it come as any surprise that this suffers by comparison. That said, Kelly has succeeded in capturing some of the charm of the original, and her characters evoke the spirit, if not the substance, of Mole, Rat, Toad, and Badger. The plot resembles that of the original: Toad is brought low by his hubris; Rat and Mole demonstrate their steadfastness; and there is trouble with those pesky weasels and stoats. Kelly has introduced two new characters: Toad's young nephew, Humphrey, and a comely young rat named Matilda, with whom Ratty (heresy of heresies) falls in love! Not heretical but simply annoying are the copious footnotes that clutter the pages, offering sometimes condescending definitions of British words and phrases and arch commentary on the text. Nevertheless, Return is a diverting tale that, one hopes, will send young readers in search of the original.--Cart, Michael Copyright 2010 Booklist