Reviews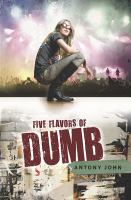 School Library Journal
(c) Copyright Library Journals LLC, a wholly owned subsidiary of Media Source, Inc. No redistribution permitted.

Gr 9 Up-When in a rush of uncommon bravado high school senior Piper offers to manage Dumb, her school's most popular student rock band, her family thinks it must be a joke. A retiring student and member of the chess team, Piper is neither the stereotypical band manager nor a typical teen: she is profoundly hearing impaired. After she discovers that her parents have spent the majority of her college money to treat her infant sister's deafness with cochlear implants, Piper's quest to get Dumb a paying gig leads her to consider her managerial role as a potential source of income. John's novel is written with a reverence for popular music-particularly the work of Jimi Hendrix and Kurt Cobain-and a respect for its ambitious teen characters. Although Piper's hearing is a characterizing detail that could have been used solely to add a type of politically incorrect and screwball humor to the story, her abilities are seen as assets: while lip reading allows her access to public conversation, she is not above using sign language to obscure her intentions. The parallel attention to Piper's hearing family and the strain her parents' decision to treat her sister with cochlear implants adds to the greater story and informs the novel's direction and ending in a satisfying way. Set in the Pacific Northwest, this rock-and-roll novel joins the ranks of Randy Powell's equally thoughtful Tribute to Another Dead Rock Star (Farrar, 2003) and Blake Nelson's Rock Star Superstar (Viking, 2004).-Amy S. Pattee, Simmons College, Boston (c) Copyright 2010. Library Journals LLC, a wholly owned subsidiary of Media Source, Inc. No redistribution permitted.
---
Publishers Weekly
(c) Copyright PWxyz, LLC. All rights reserved

"Seriously, what family with a history of hereditary deafness names their child after the player of a musical instrument?" High school senior Piper, who began to lose her hearing at age six, has mixed feelings about her parents dipping into her college fund to pay for cochlear implants for her hearing-impaired baby sister. But one thing is clear: Piper has to replenish the funds. Opportunity knocks when a disorganized rock band named Dumb invites her to be their manager. However, it soon becomes apparent that the members' egos are more substantial than their talent. In this witty yet thoughtful behind-the-music account of Dumb's journey to semistardom, John (Busted: Confessions of an Accidental Player) creates a series of humorous surprises while demonstrating how Piper's deafness, which is integral to the story and never feels like a gimmick, affects her life and those of her parents and brother, who are equally complex and well-developed characters. Relying on help from unexpected sources, Piper learns important lessons about music and media hype, while growing closer to her family and friends in the process. Ages 12-up. (Nov.) (c) Copyright PWxyz, LLC. All rights reserved.