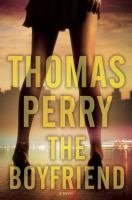 Library Journal
(c) Copyright Library Journals LLC, a wholly owned subsidiary of Media Source, Inc. No redistribution permitted.

Private investigator Jack Till is hired by the parents of Catherine Hamilton to find her killer. Once a Los Angeles homicide detective, Till is a gutsy, no-nonsense PI who knows the ropes, but has a soft side when it comes to his daughter Holly, who has Down Syndrome. He relentlessly pursues leads to find Catherine's killer, stepping into the sordid territory of high-priced call girls, from Los Angeles to Phoenix to Boston to Miami. Before long, he discovers that it isn't just a case of call girls being murdered by their clients. The pattern is in the girls' looks, all beautiful strawberry blondes, and in a custom-made necklace and anklet each of the dead girls was wearing. Should he be looking for a serial killer? He uncovers yet another twist. This killer, a loner named Joey Moreland, is actually using the call girls as cover for his real job-hit man. The chase is on, and the action ramps up as Till matches wits with a killer who changes identities, knows how to disappear, and has been trained by a paramilitary recluse named Holcomb. -VERDICT Perry, the Edgar-winning author of 21 novels (Butcher's Boy), has delivered another fast-paced thriller with unpredictable twists and turns. A guaranteed winner.-Donna Bettencourt, Mesa Cty. P.L., Grand Junction, CO (c) Copyright 2013. Library Journals LLC, a wholly owned subsidiary of Media Source, Inc. No redistribution permitted.
---
Book list
From Booklist, Copyright © American Library Association. Used with permission.

*Starred Review* Perry is a master at multiple narrators. Here he juggles the narrative reins between PI Jack Till and hitman Joey Moreland. Till takes a case that the LAPD has given up on: the murder of a high-end prostitute whose killer seems to be targeting women of the same physical type lissome strawberry blondes working as female escorts in cities across the country. The parents of the latest victim want to find their daughter's killer even if the police don't, and hire Till to help. He quickly determines that the killer is more than just a john; able to ingratiate himself with the various women, he becomes their live-in boyfriend before killing them. But is there more to it than that? Is the killer using the women's homes as a convenient hiding place while he tends to other business and then, with business concluded, murdering the women to cover his tracks? Till follows Moreland's nearly invisible trail from L.A. to Phoenix to Boston usually several crucial steps behind his adversary and realizing in the process that he has become a hitman following a hitman. Perry is a marvelous plotter, and he builds suspense with all the subtlety of a master chef nursing a risotto to buttery perfection, but what really separates him from the thriller field is his ability to fold psychological complexity into the onrushing narrative. In crime fiction, character building is too often an add-on, supplementing the thrust of the plot but never fully integrated with it. In a Perry novel, the two are part and parcel of one another. The suspense is more intense because the characters, heroes and villains, have worked their way so far under our skin. It's nothing new to call Perry a master of the genre, but it's no less true for being widely acknowledged. HIGH-DEMAND BACKSTORY: Decades of critical acclaim have made Perry a perennial favorite in libraries.--Ott, Bill Copyright 2010 Booklist
---
Publishers Weekly
(c) Copyright PWxyz, LLC. All rights reserved

This highly original and clever thriller from Edgar-winner Perry (Strip) focuses on Jack Till, a retired LAPD homicide detective turned PI, who prefers routine cases that keep him close to his grown daughter with Down syndrome. Reluctantly, Till agrees to investigate the recent murder of a high-class prostitute for her distraught parents. Toiling through the myriad sex market Web sites, Till sees a pattern across the country-attractive escorts who resemble each other, quietly killed in their homes. Till suspects the women were killed by a hit man, 28-year-old Joey Moreland, who insinuates himself into their lives as a boyfriend, then moves on after murdering them. Perry again proves himself a master stylist and plotter, as he effortlessly builds suspense and delves deeply into his characters, showing Till's cunning and how Moreland grew up to be a soulless killer. Agent: Robert Lescher, Lescher & Lescher, Ltd. (Mar.) (c) Copyright PWxyz, LLC. All rights reserved.