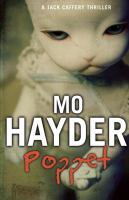 Library Journal
(c) Copyright Library Journals LLC, a wholly owned subsidiary of Media Source, Inc. No redistribution permitted.

An unsolved crime has become a thorn in the side of Det. Jack Caffery as the anniversary of the disappearance of a model named Misty gets plenty of newspaper coverage and her loudmouthed drunken mother blames Jack, who had been assigned the case, for failing to find Misty's body. So when a phone call comes in from a staff nurse at the Beechwood psychiatric unit, reporting strange happenings, patients inflicting harm on themselves, a bag full of menacing dolls, and sightings of the spectral Maude, Jack is on the case. It seems that these happenings coincide with the accidental release of an inmate with a horrific homicidal past. VERDICT Hayder's latest installment in the Jack Caffery series (after Hanging Hill and the Edgar award-winning Gone) is a creepy, twisty thrill ride that doesn't stop and will give you the shivers if you dare to read it at night. This is another winner.-Marianne Fitzgerald, Severna Park H.S., MD (c) Copyright 2013. Library Journals LLC, a wholly owned subsidiary of Media Source, Inc. No redistribution permitted.
---
Book list
From Booklist, Copyright © American Library Association. Used with permission.

*Starred Review* Even the staff are losing it in Beechway High Secure Unit, a Victorian workhouse turned mental hospital where grotesque acts of self-harm have resurrected the legend of a terrifying ghost called The Maude. Senior nurse A. J. LeGrande suspects that a recently released patient was behind the incidents but delays action at the request of clinical director and love interest Melanie Arrow. When he finally does decide to call Detective Jack Caffery (last seen in Gone, 2011), will it be too late? Meanwhile, ongoing tension between Caffery and police diver Flea Marley builds to a simmer as Caffery decides it's time for them to bring the bones of a missing girl to light. The internationally best-selling, Edgar-winning Hayder continues her stunning run of form, blending horror and procedural as few others can, undergirding the seemingly supernatural with carefully engineered plots and (mostly) explainable events. The pace is more slow-burn than rapid-fire, but the atmosphere of mounting dread will keep readers engrossed. An added bonus here is the way Hayder shows people in a part of England (jam- and cider-making hippies on the overgrown outskirts of Bristol) rarely featured in the crime fiction that washes up on our shores. Nightmarishly good.--Graff, Keir Copyright 2010 Booklist
---
Publishers Weekly
(c) Copyright PWxyz, LLC. All rights reserved

In Edgar-winner Hayder's enthralling sixth thriller featuring Det. Insp. Jack Caffery of the Bristol Major Crime Investigation Team (after 2010's Gone), Caffery stubbornly clings to a missing person case as he gets drawn into fatal abuses at Beechway High Secure Unit, a psychiatric hospital. Jacqui Kitson is pressing the police to find her grown daughter, Misty, a model who disappeared a year-and-a-half earlier. Caffery knows what happened to Misty, but he's protecting someone, an unusual stance that plays out in tantalizing fashion. Strange events are unfolding at Beechway, where belief in a monster called "The Maude" is growing among increasingly hysterical patients and staff members. A patient who goes missing is eventually discovered buried nearby. Another dies after self-harming, while a third gouges out his eye. When a severely disturbed patient is released, the terror spreads from hospital to village. Hayder's sharply drawn characters, major and minor, and her psychological acumen combine for a frightening and convincing read. Agent: Jane Gregory, Gregory & Co. (U.K.). (May) (c) Copyright PWxyz, LLC. All rights reserved.