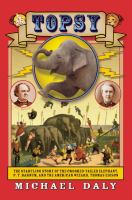 Library Journal
(c) Copyright 2010. Library Journals LLC, a wholly owned subsidiary of Media Source, Inc. No redistribution permitted.

Daly (columnist, New York Daily News; The Book of Mychal) compellingly traces the juxtaposition of circus and power industry rivalries at the turn of the 20th century. He delves into the world of circus entrepreneurs and antagonists P.T. Barnum and Adam Forepaugh, arguably America's first show business celebrities, who competed to offer the most extravagant big-top presentations. Topsy spent many years as a Forepaugh circus elephant. Meanwhile, Thomas Edison and George Westinghouse were warring over whether to establish direct or alternating current as the standard for the new American electrical industry. In a narrative comparable in pace and tone to Erik Larson's Thunderstruck, Daly weaves a sympathetic tale of elephants cruelly captured and turned into performers and, in this case, made the centerpiece in the heartbreaking culmination of these colliding rivalries. In an era that claimed to be progressive, Edison backed electrocution as a means of capital punishment owing at least in part to his professional frustrations and jealousies. Needless to say, these histories are linked. VERDICT Although this is a tale with a sad ending, popular history buffs will enjoy. Fans of Paul Chambers's Jumbo, about a Barnum elephant, or Sara Gruen's Water for Elephants, will be drawn to this as well.-Barbara Ferrara, Chesterfield Cty. P.L., VA (c) Copyright 2013. Library Journals LLC, a wholly owned subsidiary of Media Source, Inc. No redistribution permitted.
---
Publishers Weekly
(c) Copyright PWxyz, LLC. All rights reserved

In this bizarre and remarkable dual history, journalist Daly (The Book of Mychal) weaves together the stories of two turn-of-the-century rivalries. Circus entrepreneurs P.T. Barnum and Adam Forepaugh wrangle over who will be the biggest in the big-top business by flaunting their best pachyderms, while Thomas Edison, a proponent of direct-current (DC) electricity, fights to convince New York state to conduct its electrocutions via alternating current (AC) in an attempt to smear his rival, AC advocate George Westinghouse. Set against the backdrop of a New York City busily building itself up to meet the demands of a new, electrified era-an evolution that included the construction of the famous Luna Park in Brooklyn and the renovation of Madison Square Garden-these two rivalries finally intersect in a horrifying and gruesome public execution on Coney Island in 1903. Having claimed three men's lives over the course of her career, Forepaugh's prized elephant, Topsy, was executed by poisoning, hanging, and electrocution (via AC current)-all at the same time. Edison proudly filmed it-"the first actual snuff film"-and used it as propaganda against Westinghouse. Daly's fascinating, nuanced portraits of the seedy sides of the circus's heyday and the dawn of the electric age makes for incredibly entertaining reading. Agent: Philippa Brophy, Sterling Lord Literistic. (July) (c) Copyright PWxyz, LLC. All rights reserved.