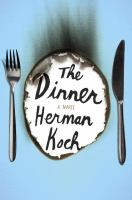 Publishers Weekly
(c) Copyright PWxyz, LLC. All rights reserved

This chilling novel starts out as a witty look at contemporary manners in the style of Yasmina Reza's God of Carnage before turning into a take-no-prisoners psychological thriller. The Lohman brothers, unemployed teacher Paul and politician Serge, a candidate for prime minister, meet at an expensive Amsterdam restaurant, along with their respective spouses, Claire and Babette, to discuss a situation involving their respective 15-year-old sons, Michel and Rick. At first, the two couples discuss such pleasantries as wine and the new Woody Allen film. But during this five-course dinner, from aperitif to digestif, secrets come out that threaten relations between the two families. To say much more would spoil the breathtaking twists and turns of the plot, which slowly strips away layers of civility to expose the primal depths of supposedly model citizens, not to mention one character's past history of mental illness and violence. With dark humor, Koch dramatizes the lengths to which people will go to preserve a comfortable way of life. Despite a few too-convenient contrivances, this is a cunningly crafted thriller that will never allow you to look at a serviette in the same way again. Agent: Michael Carlisle, Inkwell Management. (Feb.) (c) Copyright PWxyz, LLC. All rights reserved.
---
Book list
From Booklist, Copyright © American Library Association. Used with permission.

Already a runaway hit throughout Europe, boasting more than a million copies sold, Koch's sixth novel arrives stateside, giving readers here a chance to mull over some rather meaty moral quandaries. But not so fast. First, Koch has a few false paths to lead us down. The story starts off casually and unassumingly with a dinner between two brothers, one running for prime minister of the Netherlands, along with their wives at one of Amsterdam's finest establishments. The other brother, as narrator, sharply ridicules every absurd element of the night to great effect. But just as everything settles in, Koch pivots, and these pointed laughs quickly turn to discussion about their teenage boys and something they've done. And it's at this point when readers will feel two distinct ideologies forming and will face the novel's vital question: which position to side with? Koch's organic style makes for a continuously engaging read that, if anything, leaves readers wanting more. Another 100 pages or so exploring these issues further would have been more than welcome, but what is here will no doubt stir some heady debates.--Bayer, Casey Copyright 2010 Booklist
---
Library Journal
(c) Copyright Library Journals LLC, a wholly owned subsidiary of Media Source, Inc. No redistribution permitted.

Originally published in 2009, this best-selling Dutch novel is now available in English so the world can indulge in the dark comedy of award-winning author Koch (Save Us, Maria Montanelli). At an upscale restaurant in the Netherlands, two couples have dinner and a much-needed conversation about their sons. Koch employs the narrative frame of a menu (aperitif, appetizer) to slowly unveil how these couples know each other and the rippling effect their children's actions have caused. By the time dessert is served, the reader knows that the two men are brothers, and the narrative takes on Tolstoyan overtones, with each unhappy family unhappy in its own way. In a single setting, Koch successfully deploys multiple narratives of a single event to effectively show that our construction of history, and constant attempts at overdetermining the future, is problematic. VERDICT A shocking, humorous, and entertaining novel that effectively uses a misanthropic narrator in leading us through a fancy dinner, with morally savage undertones. Recommend for fans of Yasmina Reza's God of Carnage and Christos Tsiolkas's The Slap. [See Prepub Alert, 8/27/12.]-Joshua Finnell, Denison Univ. Lib., Granville, OH (c) Copyright 2013. Library Journals LLC, a wholly owned subsidiary of Media Source, Inc. No redistribution permitted.