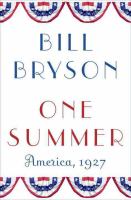 Library Journal
(c) Copyright Library Journals LLC, a wholly owned subsidiary of Media Source, Inc. No redistribution permitted.

The summer of 1927 offers the prolific Bryson (A Short History of Nearly Everything) a prepared canvas on which to paint a narrative of well-known, unknown, and little-known events and personalities of the Twenties. Loosely organized around three summer months that included, among many other things, major developments surrounding figures in aviation (Charles Lindbergh), baseball (Babe Ruth), boxing (Gene Tunney), criminal justice (Al Capone; Sacco and Vanzetti), and politics (Calvin Coolidge's "I do not choose to run" statement), Bryson's stories range back and forth into the rest of the decade and the era more broadly. The book's strength is in showing the overlap of significant events and the interaction of personalities. But the author's approach keeps the reader from gaining a real sense of the landscape; this is more a spatter painting. Scores of characters, both major and minor, come and go. Some return; others don't. The well-known story of Lindbergh's ambitious flight and its aftermath is one of the few consistent threads that can be followed in this free-for-all. Frederick Lewis Allen's 1931 narrative history of the decade, Only Yesterday: An Informal History of the 1920s, remains the classic that this volume can only aspire to match. VERDICT Most likely to appeal to Bryson fans and popular history buffs. [See Prepub Alert, 4/22/13.]-Charles K. Piehl, Minnesota State Univ., Mankato (c) Copyright 2013. Library Journals LLC, a wholly owned subsidiary of Media Source, Inc. No redistribution permitted.
---
Book list
From Booklist, Copyright © American Library Association. Used with permission.

*Starred Review* On May 21, 1927, when Charles Lindbergh set off to be the first man to cross the Atlantic alone in an airplane, he profoundly changed the culture and commerce of America and its image abroad. Add to that Babe Ruth's efforts to break the home-run record he set, Henry Ford's retooling of the Model T into the Model A, the execution of accused anarchists Sacco and Vanzetti, and Al Jolson appearing in the first talkie, and 1927 became the pivot point when the U.S. began to dominate the world in virtually everything military, culture, commerce, and technology. Bryson's inimitable wit and exuberance are on full display in this wide-ranging look at the major events in an exciting summer in America. Bryson makes fascinating interconnections: a quirky Chicago judge and Prohibition defender leaves the bench to become baseball commissioner following the White Sox scandal, likely leaving Chicago open for gangster Al Capone; the thrill-hungry tabloids and a growing cult of celebrity watchers dog Lindbergh's every move and chronicle Ruth's every peccadillo. Among the other events in a frenzied summer: record flooding of the Mississippi River and the ominous beginnings of the Great Depression. Bryson offers delicious detail and breathtaking suspense about events whose outcomes are already known. A glorious look at one summer in America. HIGH-DEMAND BACKSTORY: Bryson is the author of such best-selling books as A Walk in the Woods (1998) and A Short History of Nearly Everything (2008) and is sure to make a repeat appearance on the best-seller lists with his newest work.--Bush, Vanessa Copyright 2010 Booklist
---
Publishers Weekly
(c) Copyright PWxyz, LLC. All rights reserved

"People in 1920s America were unusually drawn to spectacle," states Bryson (A Short History of Nearly Everything) in his prologue-an unusual claim that his latest, a sprawling account of a brief period in a singular year in that decade, seems to want to substantiate. Whether or not the claim is objectively true, Bryson himself is captivated by the events of summer, 1927. And why not? They included Charles Lindbergh's solo flight over the Atlantic, Sacco and Vanzetti's execution, Gutzon Borglum's start on the sculpting of Mt. Rushmore, the Dempsey-Carpentier fight, and Babe Ruth's 60 home runs-all of which Bryson covers in characteristically sparkling prose. These notable happenings are worth relating and recalling, but others have done so, and more authoritatively and fully. Here, there's not much connection between them; a string of coincidents (and there are many of those each day) hardly justify a book. So this isn't history, nor is it really a story with a start, finish, and thematic spine. No analysis, only narrative-it's diverting but slight. (Oct.) (c) Copyright PWxyz, LLC. All rights reserved.