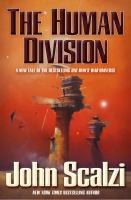 Library Journal
(c) Copyright Library Journals LLC, a wholly owned subsidiary of Media Source, Inc. No redistribution permitted.

In this collection of linked stories, army technician Harry Wilson and diplomatic corp officer Hart Schmidt are just two of the memorable characters trying to improve the reputation of humanity in a galaxy where everyone seems against them-even the population of their home planet, Earth. With a knack for crafting entertaining interstellar politics and diplomacy, Scalzi tells 13 discrete stories (originally sold serially online), each with its own perspective and tone. All told, these add up to one satisfying and very fun whole. VERDICT Featuring the author's trademark humor, clever dialog, and a hefty dose of action, this is a wonderful addition to Scalzi's "Old Man's War" universe. (c) Copyright 2013. Library Journals LLC, a wholly owned subsidiary of Media Source, Inc. No redistribution permitted.
---
Book list
From Booklist, Copyright © American Library Association. Used with permission.

Sort of a mixed bag here from the author of Redshirts (2012) and other fine sf novels. Scalzi's writing is as readable as ever, but the story set in the universe of his Old Man's War (2004) is a bit unfocused. But that's probably unavoidable, given that the novel began life as a 13-part online serial. Here's the premise: the Colonial Union is on the outs from planet Earth, the union's big secret that it has used humanity as a sort of factory for its soldiers having recently been revealed. An allied group of alien races, the Conclave, is courting humanity, offering safety in their vast numbers, but this could spell disaster for the CU. Each of the book's 13 interconnected stories adds a piece to the picture, using multiple points of view to move the narrative forward. Readers expecting a straightforward sequel to Old Man's War and its follow-ups may be disappointed, but any new novel from the extremely talented Scalzi is always good news, and this one, despite its experimental feel and shifting narrative, is one more proof that he's an unqualified A-lister in the genre.--Pitt, David Copyright 2010 Booklist
---
Publishers Weekly
(c) Copyright PWxyz, LLC. All rights reserved

Scalzi's hectically paced and philosophical continuation of the Old Man's War series is an invigorating and morally complex interstellar thriller with heart. The human Colonial Union has lost the trust of neighboring worlds due to allegations that it's been delaying Earth's technological development so it can "farm" Earth for colonists and soldiers. When the Polk, a Union ambassadorial starship, is obliterated while on a secret diplomatic mission with the alien Utche, the Union sends in a "B-team"-rebellious and unorthodox Lt. Harry Wilson, meek diplomatic assistant Hart Schmidt, and aggressive ambassador Abumwe-to seal negotiations and discover who (or what) destroyed the Polk. Scalzi injects the thrilling wonder of escapist science fiction with the painful despair of human betrayal and selfishness, focusing as much on conflicts of the heart as on warring alien civilizations. First released as digital serial installments, the book's chapters reverberate with cliffhanger suspense, building and resolving a central conflict while building on more complex story arcs. Deeply realized characters and stinging webs of political and social deceit lend mystery and emotionally harsh realism to a thrilling setting of deep space and distant worlds. Agent: Ethan Ellenberg, Ethan Ellenberg Literary Agency. (May) (c) Copyright PWxyz, LLC. All rights reserved.