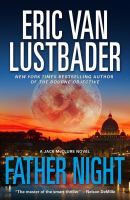 Publishers Weekly
(c) Copyright PWxyz, LLC. All rights reserved

More is less in bestseller Lustbader's fourth globe-trotting thriller to feature former national security adviser Jack McClure (after 2011's Blood Trust). In Moscow, an assassin interrupts Jack's lovemaking session with his Russian sweetheart, Annika Batchuk. Meanwhile in Washington, D.C., Secret Service trainee Alli Carson, whom Jack once rescued from a kidnapper during her father Edward's term as U.S. president, receives a death threat in the form of a Web site featuring her face Photoshopped onto the bodies of bound nude women. In other story lines, Metro PD Capt. Alan Fraine joins a covert operation for the Department of Homeland Security, while a mysterious figure known only as "the General" hatches an ominous conspiracy. The far-flung plot incorporates Nazi medical experiments and hinges on multiple characters with twin siblings. Cutesy touches, such as one character advising another not to "go all Jason Bourne on me," are as likely to annoy as entertain. Agent: Henry Morrison, Henry Morrison Inc. Literary. (Sept.) (c) Copyright PWxyz, LLC. All rights reserved.
---
Book list
From Booklist, Copyright © American Library Association. Used with permission.

Lustbader's fourth novel featuring Jack McClure and Alli Carson hits a new low for the series. McClure has finally found love with Russian Annika Batchuk, but she has a secret. Her grandfather is top dog in a criminal organization, and greedy family members want him dead to assume control. He asks McClure to help him fake his own death. Alli Carson finds herself the target of a stalker after she receives obscene photos that hint at a secret few people know. The strength of the series has been the relationship between McClure and Carson, but they are separated for a chunk of the novel, and the end result is mainly just dull. The laughable sex scenes don't help either. Readers new to the series will find it difficult to follow without knowledge of the prior books. This is for fans determined to read everything in the series or libraries similarly committed to collecting the full run. Others should approach with extreme caution.--Ayers, Jeff Copyright 2010 Booklist
---
Library Journal
(c) Copyright Library Journals LLC, a wholly owned subsidiary of Media Source, Inc. No redistribution permitted.

Nature abhors a vacuum. Lustbader's (Blood Trust) fourth Jack McClure thriller opens with the Middle East's Arab Spring in full bloom. When one power topples, who or what will replace it? Shadowy key players like the Syrian, Father Night, and a Russian named Dadya Gourdiev all play a part in this elaborate chess match, with each vying to be the winner. Alli Carson, the former president's daughter, finds herself a tormented pawn by someone who intimately knows details of her past kidnapping. However, the real target is Jack, who cannot resist stepping in to protect Alli, his dead daughter's lover. The Department of Defense special agent will find his task exceedingly difficult because some devils may never die. Verdict Lustbader expertly spins multiple story lines that tie together neatly in this fast-paced, plot-driven tale of political suspense and international intrigue. Pages will fly as fans of Jason Bourne thrillers and such authors as David Baldacci, Vince Flynn, and Daniel Silva race to the exciting conclusion.-Susan O. Moritz, Montgomery Cty. P.L.s, Silver Spring, MD (c) Copyright 2012. Library Journals LLC, a wholly owned subsidiary of Media Source, Inc. No redistribution permitted.