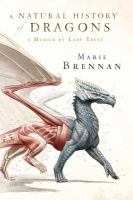 Publishers Weekly
(c) Copyright PWxyz, LLC. All rights reserved

Isabella, Lady Trent, is a naturalist and adventurer in a country that more or less resembles 19th-century England, yet fantastical creatures roam, Judaism appears to be the dominant religion, and Europe once had an ancient Egypt-like civilization. Isabella has been obsessed with studying dragons since childhood, but a formal scientific career is off limits to a woman. Instead she marries a man who shares her passion for natural history and convinces him to let her join his expedition to see the wild dragons of Vystrana. Along the way, Isabella solves a mystery and proves her worth as a naturalist. Brennan's stand-alone novel (unrelated to her Onyx Court series), written as Isabella's memoir of her youthful adventures, and beautifully illustrated by Todd Lockwood, is saturated with the joy and urgency of discovery and scientific curiosity. Isabella's life is genuinely complicated by her scientific leanings, yet she perseveres with perfectly period-accurate spirit and awareness of the risks and costs. Brennan's world-building is wonderfully subtle, rendering a familiar land alien with casual details. Fans of fantasy, science, and history will adore this rich and absorbing tale of discovery. Agent: Rachel Vater, Folio Literary Management. (Feb.) (c) Copyright PWxyz, LLC. All rights reserved.
---
School Library Journal
(c) Copyright Library Journals LLC, a wholly owned subsidiary of Media Source, Inc. No redistribution permitted.

Gr 7 Up-Isabella, Lady Trent, opens her memoir by warning readers that, "this series will contain frozen mountains, foetid swamps, hostile foreigners, hostile fellow countrymen, the occasional hostile family member, bad decisions, misadventures in orienteering, diseases of an unromantic sort, and a plenitude of mud." Writing in an ornate, Victorian style with painstaking attention to detail (but also a generous leavening of dry, self-deprecating humor), the fictitious "author" describes how her girlhood obsession with dragons led to her career of studying and drawing them and her first foreign expedition to the mountains of Vystrana. Although her story takes place in a fantasy realm, readers familiar with the worlds of Jane Austen, Georgette Heyer, and the like will understand the tropes and norms of high-society Scirland. Similarly, Drustanev, where dragons are supposed to lair, is reminiscent of imperialist Russia, from the geography of snow-capped mountain villages to the depictions of surly peasants and power-hungry boyars. Sketches of the various dragons and dragon-related scenes that Isabella encounters are scattered throughout the narrative. The pen-and-ink documentary style, which echoes textbook illustrations, adds to the atmosphere of scientific reality, which will appeal to fantasy readers and those who enjoy books such as Pierre Dubois's Great Encyclopedia of Faeries (S & S, 2000). The one criticism devoted dragon fans might have is that more attention is paid to establishing Isabella's entry into the world of scientists than to the magical beasts and their behavior.-Evelyn Khoo Schwartz, Georgetown Day School, Washington, DC (c) Copyright 2013. Library Journals LLC, a wholly owned subsidiary of Media Source, Inc. No redistribution permitted.