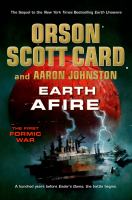 Library Journal
(c) Copyright Library Journals LLC, a wholly owned subsidiary of Media Source, Inc. No redistribution permitted.

Victor Delgado arrived on Earth in time to warn the planet of the approaching alien ships, but not in time to convince the ruling powers that any danger existed. Only when the first ships arrived over China and destruction rained down from the skies did the world take notice, and only Lt. Mazer Rackham of the New Zealand Special Air Services (NZSAS), along with the Mobile Operations Police, is willing and able to cut through red tape and take direct action against the buglike aliens known as the Formics. Card's second novel (after Earth Unaware) in the series chronicling the world conflict that precedes the award-winning Ender's Game is an action-filled tale of fighting men (and a very few women) and ordinary people who come together in extraordinary circumstances. VERDICT Card's strengths lie in his storytelling skill and his ability to create likable, strong, yet flawed characters, and fans of his Ender stories should flock to this prequel series. [The film version of Ender's Game, starring Harrison Ford, Ben Kingsley, and Asa Butterfield, is scheduled for release this November.-Ed.] (c) Copyright 2013. Library Journals LLC, a wholly owned subsidiary of Media Source, Inc. No redistribution permitted.
---
Book list
From Booklist, Copyright © American Library Association. Used with permission.

*Starred Review* The previous novel in what may be a saga closed on a cliff-hanging note, as asteroid colonist Victor Delgado raced for earth, praying to arrive in time to warn of the oncoming Bugger invasion. In this book, earth starts falling off the cliff. Delgado is ahead of the Buggers but not by enough to convince earth's government that the sky is about to fall in. Then the Bugger ships arrive, and the sky is ablaze with burning space stations, ships, and glowing craters where colonies used to be. A peaceful earth has become virtually disarmed, and the Mobile Operational Police, under Mazer Rackham, have to convert themselves from a well-armed constabulary to a force capable of defending and even preserving earth in its first interstellar war. There is nothing sanitary about the fighting, although the pacing and the vivid action scenes will satisfy hard-core military-sf buffs. At the same time, the characters and the ethical foundations under them are at the high level we have come to associate with Card. Laying their own foundations under Card's Ender Wiggin saga, the Formic Wars promise to add to Card's already high reputation and to his collaborator's as well.--Green, Roland Copyright 2010 Booklist
---
Publishers Weekly
(c) Copyright PWxyz, LLC. All rights reserved

Scott and Johnston explore human ignorance and compassion through a tapestry of galactic warfare in the second volume of the Formic Wars trilogy, collectively a prequel to Ender's Game. After the independent asteroid mining ship El Cavador is attacked, Victor Delgado escapes and joins State Official Imala in warning mining magnate Ukko Jukes and Earth's scientists of approaching hostile insectlike aliens called Formics. While diplomats seek a peaceful solution, Rena, a matriarch from El Cavador, gathers her surviving people aboard a scavenger ship, and damnable villain Lem Jukes, Ukko's son, plans to overtake the Formic ships and defy his father's iron grip. Against this operatic backdrop, heroic Lt. Mazer Rackham and his special forces stand alone against the deadly insectoids. Card and Johnston craft cinematically detailed environments for their space miners, thieves, and outcasts, probing the inner mechanics and conflicts of various groups. Social upheavals and political ineptitude are realized through rich characterization and brisk action, marrying the genre staple of alien invasion with conflicts of conscience. (June) (c) Copyright PWxyz, LLC. All rights reserved.