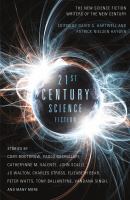 Publishers Weekly
(c) Copyright PWxyz, LLC. All rights reserved

Reviewed by Gardner Dozois. In my more than 40 years working in the science fiction publishing industry, I've seen this notion crop up every 10 years or so: "Science fiction has exhausted itself. There are no good new writers coming along anymore. The genre is finished!" Tor editors Hartwell and Nielsen Hayden thoroughly refute such claims with their huge reprint anthology featuring 34 stories published between 2003 and 2011 by writers who "came to prominence since the 20th century changed into the 21st." Here in the second decade of the 21st century, some of these "new" writers, like Charles Stross, John Scalzi, and Cory Doctorow, have become big names; others, like Elizabeth Bear, Paolo Bacigalupi, Catherynne M. Valente, and Hannu Rajaniemi, have multiple novels and major awards to their credit; and some, like Ken Liu, Yoon Ha Lee, Tobias S. Buckell, and Vandana Singh, are just starting out, but will almost certainly be among the most recognizable names of the next decade. Twentieth-century "Campbellian" SF-the sort published in John W. Campbell's Astounding/Analog magazine of the '30s, '40s, and '50s-was often about space travel, colonizing other worlds, space warfare, contact with aliens, and the far future. By contrast, most of these stories stay closer to the present, and many don't leave Earth at all. Common topics include posthumans, interrogations of the nature and existence of human consciousness, and the exponentially expanding possibilities of information-processing and virtuality technologies. There are also many robots and artificial intelligences, including human-mimicking dolls, companions, and sexbots. It's worth noting that many of these authors would have been excluded from Campbell's largely white, male, middle-class American stable of writers. The face of science fiction has changed as well as its subject matter. It's hard to pick favorites with so many good stories on offer, but my personal selections would be Bear's "Tideline," in which a dying robot in a devastated war-torn future teaches some of the human survivors how to become more human; Moles's "Finisterra," a vivid adventure in which people engage in internecine warfare among huge living dirigibles in a layer of Earthlike atmosphere on a Jupiter-sized planet; and Watts's "The Island," in which a work crew building a series of wormhole transport gates across the galaxy encounters a living intelligent creature the size of a sun. I'd like to have seen something by Lavie Tidhar, one of the most exciting new SF writers of the last few years, as well as some work by Aliette de Bodard and Kij Johnson, and while the late Kage Baker certainly deserves to be here, I'm not sure I would have picked "Plotters and Shooters," one of her minor works, to represent her. However, these are just quibbles. Twenty-First Century Science Fiction will certainly be recognized as one of the best reprint science fiction anthologies of the year, and it belongs in the library of anyone who is interested in the evolution of the genre. Gardner Dozois has written and edited more than 100 books, has won 15 Hugo Awards for editing, has been inducted into the Science Fiction Hall of Fame, and edits the Year's Best Science Fiction, a yearly anthology series. (c) Copyright PWxyz, LLC. All rights reserved.
---
Library Journal
(c) Copyright Library Journals LLC, a wholly owned subsidiary of Media Source, Inc. No redistribution permitted.

In John Scalzi's "Tale of the Wicked," a spaceship captain in pursuit of an enemy battle cruiser finds his decisions questioned by an unexpected "member" of his crew. In the late Kage Baker's "Plotters and Shooters," adolescents hone their battle skills while dealing with the problems of hierarchy and dominance. Together with stories by Paolo Bacigalupi, Genevieve Valentine, Elizabeth Bear, Hannu Rajaniemi, and other prominent voices of the first decades of the 21st century, this compendium showcases the variety and strength of modern sf. VERDICT With both an awareness of its roots as well as an eagerness to break new ground, the 34 stories collected here should give sf enthusiasts hope for the continued health of the genre. (c) Copyright 2013. Library Journals LLC, a wholly owned subsidiary of Media Source, Inc. No redistribution permitted.